More than half of hate crimes committed by under 35s
Four in ten crimes perpetrated against the LGBTQI community, one-third due to racism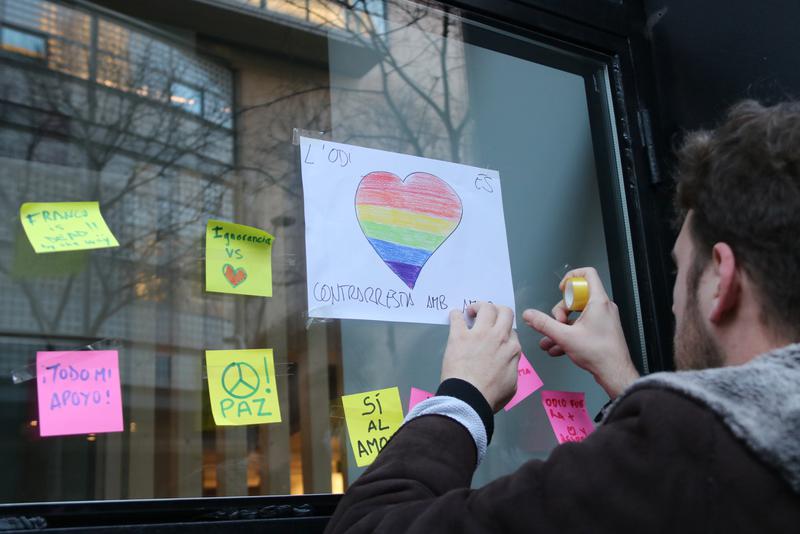 More than half of hate crimes reported to Catalan police between 2020 and 2022 were perpetrated by under 35s, according to data obtained by the Catalan News Agency (ACN) under a freedom of information request.
Specifically, under 35s were responsible for 50.1% of hate crimes reported to the Mossos d'Esquadra, with under 18s responsible for 22.6%.
The 35-64 age group was responsible for 43.1% of the 1,433 hate crimes recorded by the police over the three years.
Around four in ten hate and discrimination crimes reported were for LGBTQI-phobia (40.5%), while one third (33.1%) were against victims' ethnicity, origin or race.
Other categories of hate crimes recorded included political orientation (17%), religion (2%), sexism (1.9%) and Islamophobia (1.5%).
Among perpetrators under the age 18, attacks on the LGBTQI community accounted for over three quarters (77.7%) of hate crimes.
Far-right and increase in hate crimes among young people
The head of the Observatory against Homophobia (OCH), Eugeni Rodríguez, is concerned that many of the perpetrators of hate crimes are young and says that this is related to the concept of masculinity, to chauvinism and to LGBTQI-phobia.
"A lot of homework has to be done in education, but the paradigm of masculinity must also be changed, because we have a monster that acts violently towards women and LGBTQI people," he told ACN.
Schools need psychologists to reinforce the educational policies necessary to guarantee LGBTQI rights and prevent bullying, Rodríguez said.
Jaume Hombrado, spokesperson for the College of Criminologists, regrets the "normalization" of certain behavior among young people, such as controlling their partner's phone, monitoring the clothes they wear and who they go out with, and attacking groups such as the LGBTQI community.
One of the reasons he gives for this is the appearance of political parties that "diminish" the rejection of homophobia, or even "glorifying" the contempt of certain social minorities.
"Far-right opinions have always existed, but if you have an interlocutor who defends these ideas, it legitimizes them and you feel more capable of implementing them," he told ACN.
Increase in hate crime reporting
The number of hate crimes reported has risen from 382 in 2020, to 464 in 2021, to 587 in 2022.
Over the three years, men have committed three out of four (75.9%) hate crimes. Men have also been the victim in a majority (63.8%) of incidents.
Regarding the increase in hate crime reports, Hombrado believes that it is "positive" that the police have recorded more incidents as "it implies that the system is working."
The alternative, he says, is to be a victim and "not report it, but to keep it at home."
What may be considered acceptable behavior has changed from five or ten years ago, Hombrado says, citing the incident between the former president of the Spanish football federation (RFEF), Luis Rubiales, and the soccer player Jenni Hermoso.
"Now, there are many people who are much more sensitive to certain social realities or circumstances that must have consequences," Hombrado says.
This means, he adds, that an increase in reports should not be confused with an increase in crimes.