Minute of silence held for femicide victim in small town of Pontons
Council decrees two days of mourning and calls for greater police presence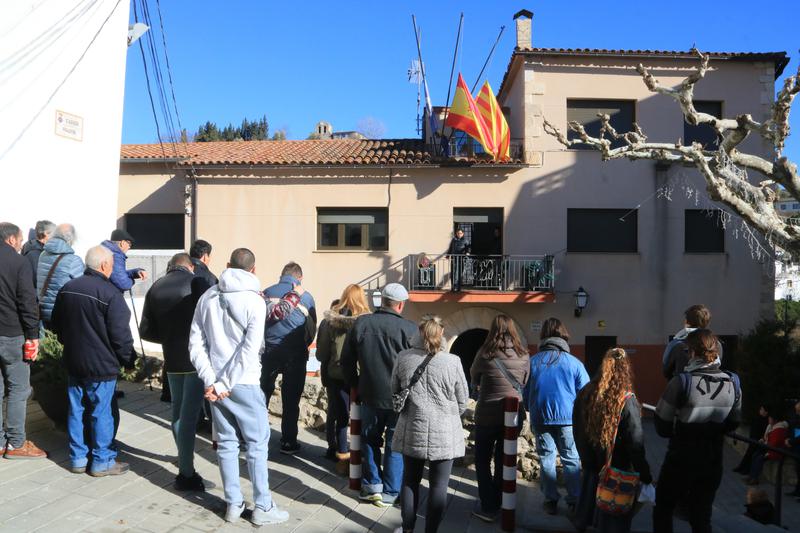 Over 50 residents of the small Alt Penedès county town of Pontons, about an hour west of Barcelona, observed a minute of silence on Saturday for a woman who was killed by her partner and buried in the municipality last summer.
Council members gave a speech rejecting violence against women and expressed solidarity with the victim and her family, decreeing two official days of mourning.
The mayor, Josep Tutusaus, stated that both the 42-year-old victim and the 43-year-old man who is the alleged perpetrator were Barcelona residents.
The woman's partner, he said, chose Pontons for "circumstantial" reasons including its remote location far from big highways and its few local police, prompting him to call for increased Mossos d'Esquadra police presence in the small town he says has been "completely abandoned" by law enforcement.
The council was first alerted to suspicious land movement by residents before they then reached out to the rural Guardia Civil police. "The man came here and bought land almost in the middle of the mountain, and almost a year after the incident some of his neighbors came to the town hall to tell us that what the man was doing was odd," Tutusaus explained.
"It was so obvious that it was a gravesite that all it was missing was a cross and a name," he continued. "It was so obvious that it was hard for us to convince the officers."
The case is being investigated by a Barcelona court as that was the place of residence of both the victim and the alleged perpetrator, who is currently behind bars as he awaits trial.