Migrants jump off stranded rescue ship as Open Arms calls situation 'out of control'
Spain sends rescue ship to Lampedusa to evacuate migrants as Italy refuses to let Catalan NGO dock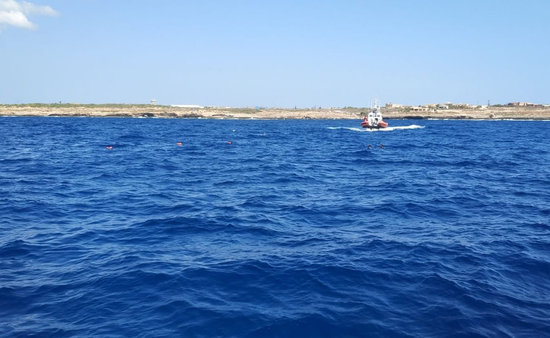 At least a dozen migrants aboard of the Open Arms rescue ship have jumped and tried to swim to Lampedusa as Italy continues to block the Catalan NGO from disembarking in its ports.
As of Tuesday, the vessel has been stranded for 19 days in the Mediterranean.
"People continue to jump into the water desperately. Our lifeguards, rescue boat, coastguards and [Italy's] Guardia di Finanza rescue are trying to control the situation," said the NGO via Twitter. "The situation is out of control."
The evacuation of 9 migrants this morning has taken the tally under 100, but for those on board conditions remain critical.
This comes after Open Arms founder Oscar Camps denounced Europe and Italy's Interior Minister Matteo Salvini as responsible for the mortal risk of the passengers.
Spanish Vice President Carmen Calvo considered seeking harbor at a port in the Balearic Islands as a more preferable option for the ship. However, this port is several days of sailing away, and with the upcoming weather expected to bring adverse waters, the NGO has dismissed the Balearics as a plausible option.
Later on the day, the Spanish government announced that it was sending an army ship to Lampedusa to evacuate the people still on board.
So, with Salvini's history of longstanding criticism of NGO rescue operations, it appears that the stalemate with Italy is set to continue.