Metal monolith appears on Sa Conca beach in Costa Brava
Over the last few months, it has also been spotted in several other locations without any known reason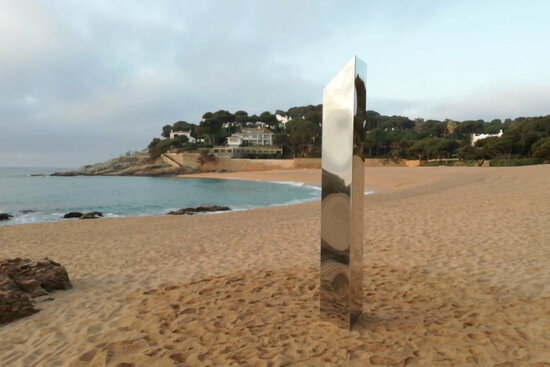 Mysterious monoliths have popped up all over the world after one was first discovered in the Utah desert in November 2020. Now, one has appeared on Catalan shores in the Costa Brava, on the Sa Conca beach in S'Agaró.
The metal monolith stands at 3 meters tall and has a triangular prism shape which reflects different sections of the beach. It is not known who put it there, nor its reason for being there.
The Platja d'Aro town hall has put up some cords around the structure as a way to prevent people from touching it and potentially spreading Covid-19, since a lot of people started approaching it after finding the structure.
Discovery in Utah
The 'Utah monolith' was discovered in a red sandstone slot canyon in the Utah desert. It was placed there at some point in 2016 but went unnoticed until November 2020 when it was found and then removed.
Its origins, makers, and reasons for existence are completely unknown. Similar structures have also been spotted in the UK, Romania, the Netherlands, Poland and all over the world, many of these being constructed by local artists to imitate the Utah version while others fiercely retain their mystery.
They are all above 3 metres tall, triangular and appear and disappear amid mysterious circumstances. Many seem to appear in nature, such as the monolith seen on the Isle of Wight in the UK in December 2020, which also appeared on a beach.
Whilst many presume it to be the product of an art project, some conspiracy theorists have attributed the metallic monoliths to aliens.