Marine protection foundation warns of 'danger' to marine life of potential Roses wind farm
Philippe Cousteau group wants to see environmental impact studies done on such projects, including effects of electromagnetic fields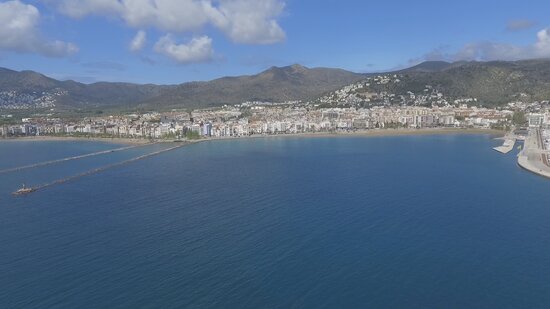 The Philippe Cousteau Foundation has drawn up a report detailing its "concern" about the "danger" that a potential wind farm in the Gulf of Roses, in north Catalonia, may pose for the environment, including the marine flora and fauna in the area. The foundation sent the report to the Stop Macro Wind Farm Marí Association.
However, the group admits the need to develop renewable energies given the ever-worsening situation of climate change, but reminds of the duty to respect protected natural spaces..
They warn that the space in the waters of north Catalonia earmarked for wind farm development in a recent plan by the Spanish government is an area important for biodiversity that sits between three natural parks and that "hosts numerous protected areas."
Spain's ministry for ecological transition said they kept protected biodiversity in mind when designating the areas eligible for wind farms, but the Cousteau Foundation argues that this intention will be difficult to achieve "in the absence of a thorough evaluation of the impact that a large offshore wind farm can have on the edge of one of the most important sites for natural marine heritage."
In addition, the group points out that, although wind power is considered one of the cleanest and non-polluting renewable energies, it is not exempt from having "negative impacts on the environment." They state that the noise of construction and operation of wind turbines can exceed 200db and can "significantly affect practically all marine species that are within a short distance of the source of the disturbance."
Effects of subsea cables
The foundation warns that areas of the seabed can be "completely" lost or damaged under the foundations or anchoring systems of wind turbines, subsea cables, and other structures.
In relation to underwater electric cables, they say they generate electromagnetic fields that "spread in the sea" and "affect organisms that use the Earth's natural geomagnetic field to orient themselves."
According to the Cousteau Foundation, recent studies have shown changes in the behavior of some species of crustaceans and effects on their daily and migratory routes. "We are also concerned about the impact that these radiations could cause on the health of marine organisms," they add. For this reason, they call for a detailed study of the behavior of electromagnetic fields in the seas and their impact on marine plants and creatures.
The foundation want to see an environmental impact study carried out prior to awarding any company a contract for offshore wind farms.