Major traffic jams in Catalonia ahead of Sant Joan's eve celebrations
Over 60 kilometers of queues across territory with AP7 highway most affected road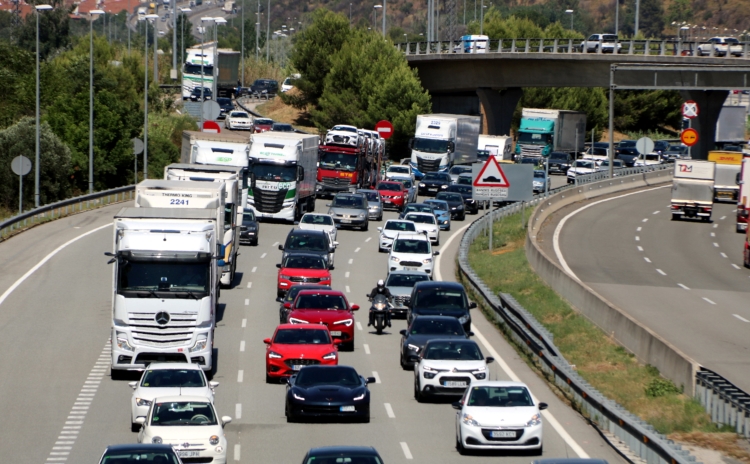 Major traffic jams have formed across Catalonia's main highways as thousands of people are traveling ahead of Sant Joan celebrations on Thursday afternoon. By 4 pm, over 60 kilometers of queues were reported by the Catalan traffic authorities.
The vast majority of congestion is on the AP7 highway, which crosses the territory from north to south.
The main traffic jam is on the southern side of the highway, from Barcelona to Tarragona, where authorities reported up to 27 kilometers of traffic between the towns of Sant Andreu de la Barca and Santa Perpètua de Mogoda.
In the opposite direction, from the Catalan capital to Girona, there are 20 kilometers of congestion. Cars are stopped between Granollers and Cerdanyola del Vallès.
Around 450,000 vehicles are expected to leave the Barcelona area from Thursday afternoon to Friday morning coinciding with the Sant Joan celebrations and the long three-day weekend.
Other places in Catalonia affected by traffic jams are the A2 highway, from Barcelona to Lleida, with 18 kilometers of queues.
On the B-23 road, crossing the Papiol area, towards Tarragona there are 8 kilometers of queues, and 11 km on the C-32 from Sitges to Tarragona.
Sant Joan
June 23, the eve of Saint John's Day, has traditionally been regarded as 'the shortest night of the year' – while it is not exactly correct, because the countdown for a long and dark winter begins on June 21, it is a perfect motto to celebrate the summer solstice.
Catalans feel a real need to make the most of the barely 9-hour night, with partying in the streets, beaches, and squares up to a clear deadline: the sunrise, at around 6 am.
The first post-Covid 'revetlla de Sant Joan,' or 'revetlla' (for 'eve'), as locals refer to the night, will try to be similar to pre-pandemic ones, with firecrackers being set off by children, their parents, families, and groups of friends, together with bonfires in town squares, intersections, and beaches.
Family traffic accident victims warn drivers
As thousands take to the roads, family members of car crash victims will warn drivers in some petrol stations in Barcelona. They will explain their experiences to caution them about the risks faced when not respecting driving rules.
Volunteers from Stop Accidents civil society group will speak to drivers at three different petrol stations across the Catalan capital, such as the one at Avinguda del Litoral 45, Carrer Diputació street 317, and at Passeig Santa Coloma boulevard 71.
According to figures from Spain's Directorate General of Traffic (DGT) in 2021, 1,004 people died in car accidents on Spanish roads. That same year, 3,728 more were injured.
"We cannot forget that we do not drive alone, but we share the roads with other drivers. It is also crucial to remember that it is important to go, return, and enjoy the holidays without any risk," the group said in a statement.