Light snowfall in Barcelona's mountain neighborhoods
Snow in central Catalonia's Ripollès, Osona and Moianès counties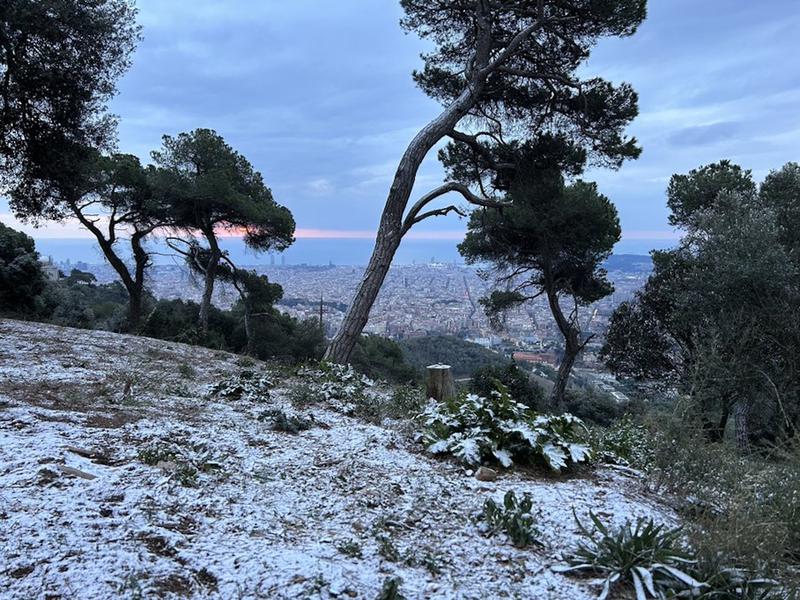 A very light blanket of snow fell in parts of Barcelona's neighborhoods closest to the Collserola mountains as well as the most elevated parts of the surrounding Vallès and Maresme counties in the early hours of Tuesday morning, an unusual phenomenon in this area. The last major snowfall in the Catalan capital was in 2010.
The snow fell at altitudes of 100 to 300 meters above sea level according to the Catalan Meteorological Service, while Civil Protection activated a snow "pre-alert" warning at over 200 meters across Catalonia.
The natural parks of Montseny and Sant Llorenç del Munt i l'Obac – 60km and 35km from Barcelona respectively – were transformed into winter wonderlands.
In the greater Barcelona area, some snow fell at low altitudes such as in Granollers (145 meters), Sabadell (190 meters), Santa Maria de Palautordera (208 meters), Sant Esteve de Palautordera (231 meters), Terrassa (277 meters) and Matadepera (423 meters).
Central Catalonia snowfall
Snow has also fallen in central Catalonia's Osona and Moianès counties, with few major incidents other than students from the secondary school in the small town of Gurb, near Vic, being sent home and the local Muntanyola council activating its snow protocol.
Ripollès and Girona
There was snow too around Girona in the north of Catalonia. In Sant Hilari Sacalm, situated at 800 meters above sea level in Selva county, the snow left streets and cars white. While schoolchildren enjoyed the novelty of having a snowball fight, not everyone was overly impressed.
"It snowed quite a bit a few years ago, Lídia Matamoros, a resident of Sant Hilari Sacalm said. "To be honest, I don't really like snow much because my feet get cold but it's pretty to look at."
There was significant snowfall in Ripollès, with towns such as Ripoll and Sant Joan de les Abadesses painted white.
In Ripoll, 600 meters above sea level, it started snowing around 7 am. Local authorities spread potassium chloride on roads to melt the ice and have cleared the snow in front of schools and on bridges.
Snow also reached La Jonquera near the French border in the afternoon and there were even some snowflakes in the early hours of the morning on the Costa Brava, for example in Begur.