Last survivors remember Battle of the Ebre 81 years on
Four former Republican soldiers, all 99 years old, attend the commemoration of the longest and largest battle of the Spanish Civil War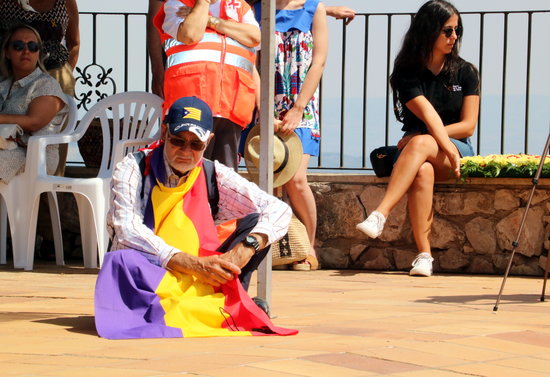 There were only four survivors, all of them now 99 years old, at this year's annual commemoration of the Battle of the Ebre, the longest and largest battle of the Spanish Civil War (1936-1939).
The commemoration of the start of one of the war's hardest fought battles was held on Thursday, close to the battlegrounds around the Ebre River in southern Catalonia, where tens of thousands of soldiers on both sides lost their lives.
The loss of the battle in November 1938 was disastrous for the Second Spanish Republic, which was left unable to prevent the advance of Franco's Nationalist forces. By April the following year, the war was over, and 40 years of fascist dictatorship began in Spain.
The former Republican soldiers who attended Thursday's commemoration spoke of lost comrades, but also of lessons that had not been learnt: "We lost the war because we were not united and now the same thing is happening again," warned Miquel Moreira.
"A great many died in the trenches"
Moreira and his three former comrades placed flowers at the Cota 705 peace monument remembering the dead in the Pàndols mountains, in Pinell de Brai (Terra Alta). "A great many died in the trenches," recalled Artur Mercader.
Reflecting on their experiences, the former soldiers agreed that surviving the 115-day conflict was more about good fortune. Mercader talked about a comrade next to him who was hit by shrapnel: "He saved my life because if it hadn't been him, it would have been me."
"It was a question of luck; I had a guardian angel," concurred Andreu Canet, who spent more than a year in five different hospitals and who was given up for dead, but he managed to make an unexpected recovery.
"We were the losers"
Yet, Thursday was about remembering the many thousands who did not survive the battle and Canet's explanation for why not more has been done to dignify their memory is because the Republicans lost the war: "We were the losers," he said with emotion.
"We new generations have to preserve their stories and their lives. We will work to make sure their memory and their recollections remain alive," pledged Neus Sanromà, the president of the Terra Alta county council.