Last Catalan Holocaust survivor laid to rest
Government representatives attend farewell ceremony of Neus Català, who died on Saturday aged 103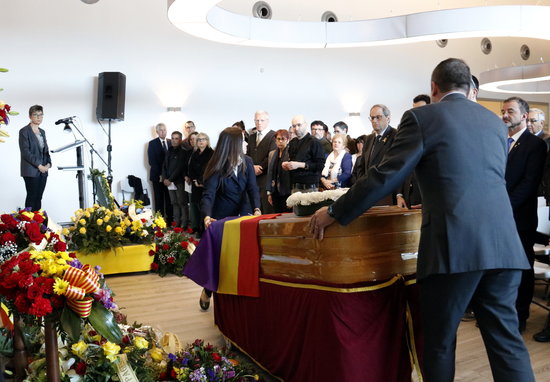 The last Catalan survivor of the Ravensbrück concentration camp will be laid to rest on Tuesday, when her remains are transferred from the funeral home in Móra d'Ebre to Móra la Nova, where the funeral ceremony will take place.
Neus Català, who was captured by the Nazis in 1943 and sent to the camp in northern Germany, died on Saturday at the age of 103, in a nursing home in her hometown of Guiamets, in the southern province of Tarragona.
Different government representatives are expected to attend a farewell ceremony preceding the funeral of a woman who was awarded the prestigious Sant Jordi Cross in 2005 and was also named Catalan of the Year in 2006.
Barcelona to pay tribute to Català
Barcelona also awarded Català its Golden Medal of Civic Merit, and the city council is now looking into naming a street for the Holocaust survivor, after the proposal received cross-party support on Monday.
The city also plans to hold a series of commemorative events to remember Català and the other 150,000 victims who passed through the Ravensbrück concentration camp between 1939 and 1945.
An example of "courage and commitment"
Born on October 6, 1915, Català went into exile in France at the end of the Civil War in 1939, taking 182 orphaned children with her, who she later repatriated or for whom she found homes.
Català then went on to work with the French Resistance, passing on messages, storing weapons and sheltering political refugees. However, the occupying Nazi authorities arrested her after she was reported by a local.
The only Catalan to survive the Ravensbrück concentration camp, while there Català was put to work making armaments, and was part of a boycott that sabotaged the operation, producing some 10 million faulty bullets.
After her release from the camp at the end of the Second World War, Català returned to France, where she continued to secretly agitate against the Franco regime in Spain.
Justice minister, Ester Capella, visited the Móra d'Ebre funeral home on Monday, praising Català as an example of "courage and commitment" against the "barbarism" of Nazism and Fascism.