K9 Creixell charity sends search and rescue dogs to Turkey following earthquakes
No Catalans known to be affected by devastating tremors killing at least 5,000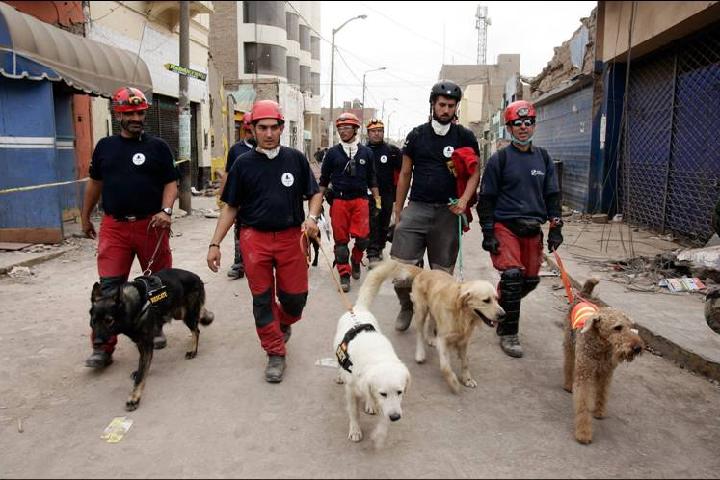 K9 Creixell, a charity from a small town near Tarragona, has a team of search and rescue dogs currently en route to Turkey following the magnitude 7.8 and 7.5 earthquakes that hit the south of the country and northern Syria on Monday, killing at least 5,000.
"The K9 Creixell NGO will once again travel to where we are needed," Pedro Frutos, the group's founder, wrote on his Facebook page on Monday.
Frutos, who spoke with Rac1 radio briefly on Tuesday morning, explained that "the dogs let you know if the person is alive by barking and if they are dead by scratching the ground."
According to Rac1, 6 people and 5 dogs will be arriving in Turking this evening to help locate victims among the rubble. This will be K9 Creixell's 18th earthquake rescue mission and its third time in Turkey.
The charity also has delegations in Portugal, Brazil, Argentina, and Chile.
No Catalan victims
There are no Catalans known to be among those affected by the earthquakes, the government's foreign action department said on Monday evening.
The department also stated that none of the aid projects financed by the Catalan Development Cooperation Agency have been directly impacted by the tremors.
The Catalan government has been in touch with both Turkish and Rojavan authorities to express its concern.
Catalan government meeting
Members of the Catalan government will meet with the Catalan Committee for Emergency Humanitarian Aid tomorrow with the aim of coordinating an aid response to the devastating earthquake.
Foreign minister Meritxell Serret will chair the meeting remotely from Brussels, where tomorrow she will also participate in the plenary session of the Committee of the Regions.
Catalan government spokesperson Patrícia Plaja said that the administration "will do everything we can and activate all mechanisms needed to be able to add to the humanitarian aid that is so needed."
The department headed by Serret is following the evolution of the disaster closely and is in contact with consulates and local authorities on site to learn about the effects of the earthquake and rescue operations underway.
The meeting will bring together the principal humanitarian organizations in Catalonia, including entities from the Catalan development cooperation sector and representatives of different government departments.