Judge summons TV sketch trio over parody of Andalusian religious icon
Toni Soler, Jair Domínguez and Judit Martin are being investigated for the crime of insult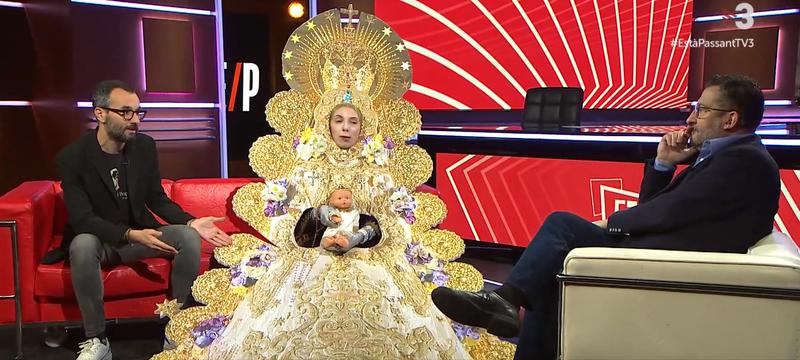 A judge has summoned the host and two contributors to a Catalan television program 'Està passant,' to testify in court as part of an investigation into their skit which parodied the Virgin of El Rocío, an Andalusian religious icon.
The content of the sketch may constitute the crime of insult, deemed the judge in Sant Feliu de Llobregat, just outside Barcelona, after receiving a complaint from a group called Christian Lawyers, who are named as private prosecutors.
Presenter Toni Soler, Jair Domínguez and actor Judit Martin, have been ordered to attend court on October 27.
The complaint cited several comments from the program – from Catalonia's public broadcaster TV3 – which they said were clearly vexatious and offensive, especially those with sexual content.
It also referred to Spain's criminal code, which prohibits "offending the feelings of the members of a religious denomination, doing so publicly, verbally, in writing, or through any type of document, ridiculing their dogmas, beliefs, rites or ceremonies, or agitating, also publicly, those who profess or practice them."
Comedians defiant
Both Soler and Domínguez responded on Twitter to the news of their court summons, with Soler writing "HOLY VIRGIN" and Domínguez remarking that "they will have to bring him in a police car because he will not be wasting petrol on going to testify."
The sketch was criticized by groups and figures such as the Catalan Catholic Church and the Andalusian president.