Highest drowning figures in eight years for Catalan beaches
29 people fell victim to the sea, with the elderly men being the most common casualties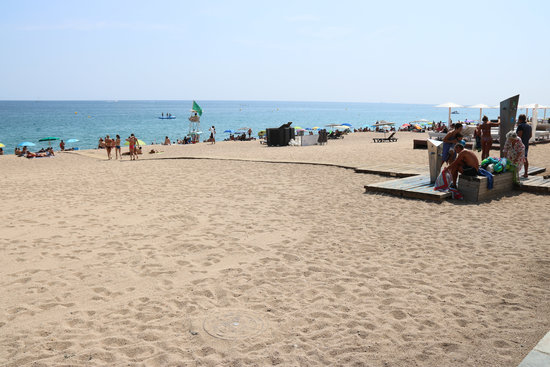 Catalonia saw an all-time high number of drowning victims at its beaches this summer, ever since Civil Protection began closely monitoring this data in 2012.
According to Civil Protection, between June 15 and September 15 there were 29 casualties in Catalan seas for 2019, representing a stark increase on this time period last year, when there were only 18.
According subdirector of Emergency Coordination and Management, Sergio Delgado, the most common cases ''are victims over seventy, in good sea conditions with a green flag, and a beach that has lifeguards.''
The increase can perhaps be attributed to the heatwaves felt in Catalonia and across Europe this summer, which means that swimmers are more susceptible to sun stroke and swimming in conditions where they are very much affected, as pointed out by Delgado in a statement to ACN.
Costa Brava sees biggest increase
Northern Catalan coastline the Costa Brava accounted for 48% of all casualties with 14, up from just 6 in the same time period last year.
Further south, the Costa Daurada (9 deaths - 31%), the Costa Central (5 deaths - 17%) and the Terres de l'Ebre (1 death - 4%) were among other shores affected.
Analysis of last eight years shows common circumstances
There have been 205 deaths for swimmers at Catalan beaches since 2012 when Civil Protection's analysis began, after three people died in Coma-ruga in zones where swimming was prohibited, or with a red flag the year before.
The data has found that 79% of victims are men, with 70-79 being the most affected age group and an average age of 63.
38% of victims were foreign, almost 40% of whom were French, and in 64% of cases, the beaches were being watched over by some form of lifeguard presence.
76% of the beaches with lifeguard presence had a green flag when the incidents took place, while 21% had a yellow flag and 3% had a red flag.
The most common time of day was between 10 and 11 in the morning, when lifeguard duties are about to start or have not yet started.
Delgado issues warning to elderly
''We are not talking about drowning through bad luck, but through risk factors inherent in the over-70 collective,'' stressed Delgado. ''Many of the deaths are people who were not able to ask for help because they feel seasick or they have a heart problem, for example.''
He therefore recommends, particularly to those over 60 years old, that they swim in beaches with lifeguards and that they do it with someone else.
Differences in statistics across various beaches
The data has shown there to be a number of significant differences between the Costa Brava, the Costa Daurada and the Costa Central.
Over half of the victims at the Costa Brava are foreign (51%), and over a quarter of all victims are French. The most affected age-group is still 70-79 (27%), but figures for 60-69% are noticeably high (21%).
Meanwhile, 46% of all Costa Brava cases are at beaches without lifeguard presence, well above the Catalan average of 36%. This may be explained by the existence of several smaller bays that do not have lifeguards.
The Costa Daurada has a much higher figure for victims between 70 and 79 years old (41%, and for women (25%). However, less than a third of victims (30%) are foreign.
The Costa Central has the lowest average age of all victims, at 58 years old, with 50-59 the most affected age range (26%) followed by 70-79 (24%).
Positive survival rate for those with medical attention
In cases where a lifeguard is alerted and able to recover the victim, 86% of those rescued survive according to the Medical Emergencies System's data.
During summer months there is a centre of information and coordination of Civil Protection, which monitors the beaches and is ready to send rescue operations when necessary. They also provide public information on flag colors and lifeguard presence (or lack of), among other things.