Group of young people topple metal monolith that appeared on Sa Conca beach in the Costa Brava
Town council of Platja d'Aro confirm they will reinstall the structure ín green area Parc dels Estanys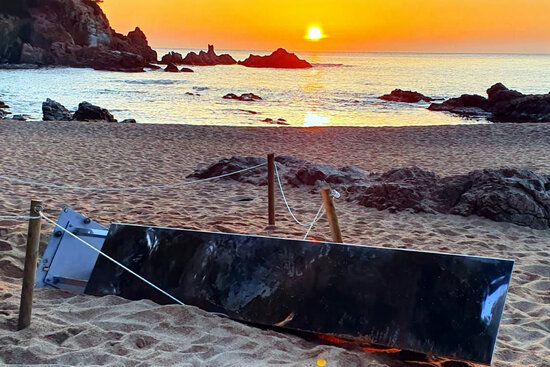 A group of young people have toppled the metal monolith that mysteriously appeared on Tuesday on the Sa Conca beach in Catalonia's Costa Brava.
Some locals contacted the police at 7am on Thursday morning as they saw people dismantling it, pulling it out from its base rooted in the sand. The 3-meter tall structure had previously been protected by cords to prevent it from being touched after a lot of people started to approach it.
Thanks to details given by a fisherman, the police were able to find the young people in the area. However, the outcome and criminality of all this is unclear, since the structure has no owner.
The Castell i Platja d'Aro town council has decided to place it in the park Parc dels Estanys, where other similar works of art are on display.
Multiple monoliths
Mysterious monoliths have popped up all over the world after one was first discovered in the Utah desert in November 2020. The one on the Sa Conca beach in S'Agaró stands at 3 meters tall and has a triangular prism shape, like the others. It is not known who put it there, nor its reason for being there.
Similar structures have also been spotted in the UK, Romania, the Netherlands, Poland and all over the world, many of these being constructed by local artists to imitate the Utah version while others fiercely retain their mystery.