Firefighter who died in nuclear facility had finished shift, was called to attend CO2 leak
Ascó power plant director acknowledges "confusion" after workers from subcontractor Falck demand transparency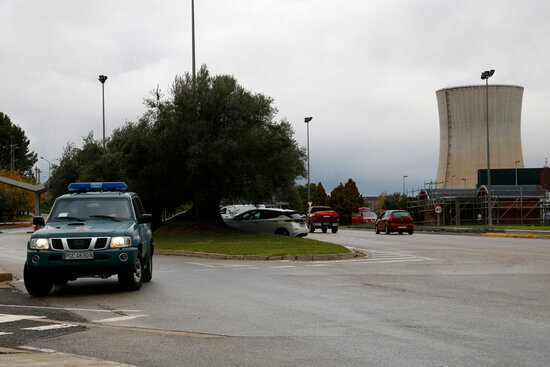 The firefighter who died at Ascó nuclear power plant last Wednesday had finished his working day before being recalled to help rescue staff caught up in a carbon dioxide leak, according to the workers' committee at Falck, a company subcontracted to work at the plant.
In a statement – and also in response to the Spanish Nuclear Industry Forum – the workers' committee disputed the official version of events set out by the company that manages the Ascó plant, ANAV, which had claimed that the victim had been carrying out maintenance work on the fire prevention system.
The victim's colleagues say he had in fact completed his shift, before he was alerted to the accident and recalled.
The statement also said that "no maintenance work was being carried out on the fire prevention system" at the time of the carbon dioxide leak that caused the fatality and three injuries.
The workers' committee said it "totally rejects the company's communication strategy" and called for ANAV to rectify the statements it has issued so far and to apologize to the victim's family and colleagues. They also call for more transparency to ensure that information released is "truthful and reliable."
Power plant laments "confusion"
The director of the Ascó nuclear power plant, Jordi Sabartés, responded on Tuesday, saying he lamented the "confusion caused by the first information issued" following the death of the firefighter.
In a statement addressed to staff, Sabartés expressed his condolences and acknowledged that the victim had finished his shift but "did not hesitate" to come back and join the rescue team coming to the aid of a group of workers suffering from carbon dioxide poisoning.
"These are difficult days for everyone, nothing we do can bring Francesc back to us, but we must remember the enormous commitment he showed with his actions on Wednesday afternoon" he said. Sabartés also praised the "dedication, effort and solidarity" of the firefighters and other workers when it came to "protecting people" during the incident.
The power plant director explained that following the incident, "equipment was reviewed and analyzed."
"We are devoting all necessary efforts, not only to knowing what happened on Wednesday afternoon but also, as befits our way of working, to extracting all the necessary lessons learned so that all this is never repeated again."