Court convicts five men of sexual abuse rather than gang rape
Another controversial ruling sees judges dismiss charges that group used violence or intimidation to sexually assault 14-year-old girl in Manresa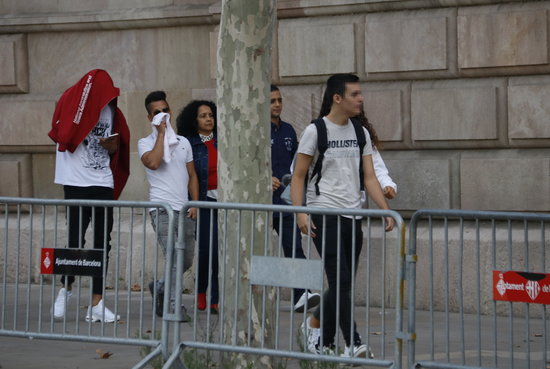 In a verdict sure to add to the controversy surrounding a string of high-profile sexual assault cases, Barcelona's high court has sentenced five young men to prison for sexually abusing a 14-year old girl rather than for the more serious offense of gang rape.
The prosecutor had charged six young men with gang-raping the girl in the central Catalan city of Manresa in 2016, but on Thursday the court sentenced two of the men to 12 years in prison, and three others to 10 years for sexual abuse rather than rape.
The court's decision means the five convicted men avoided potential prison sentences of up to 25 years, while a sixth defendant was acquitted, as was a seventh man who masturbated while watching the group take turns assaulting the teenager.
Charges raised from abuse to rape
Originally charged with sexual abuse, the prosecutor later increased the charge to gang rape, alleging the men had used intimidation during the incident with some later threatening friends not to give testimony in court against them.
Yet, the court dismissed the allegations, as it did the girl's testimony that she had been drugged beforehand and shown a pistol in order to intimidate her into complying. The court said her testimony could not stand because she did not remember what had happened.
In its summing up, the court maintained that while the girl's version of events may well be true, she awoke the next day at a friend's house and said she could not remember anything and that it was her friend who explained to her what had happened the night before.
The court went on to argue that to convict the men of gang rape, violence or intimidation had to be proved and that while a crime had taken place, the girl's unconscious state meant the men did not resort to violence or intimidation.
The incident took place on October 26, 2016, in a private party in an abandoned factory in Manresa. At the time, the girl was 14 years old, and she was still a minor when she gave her testimony in court early this year.
Echoes of the 'wolf pack' case
The case is just one of a number of similar sexual assault incidents that have caused widespread public outrage, including protests and demonstrations in places around Catalonia and Spain, as well as calls for the law to be changed.
The 'Manada' (Wolf Pack) case in Pamplona, for example, saw five men convicted for sexually abusing a young woman. After a series of protests, the Supreme Court later converted the original verdict to rape and raised the prison sentences from 9 to 15 years.
Another incident, which also took place in Manresa, led to protests in the city earlier this year when four young men were taken into custody without bail after a 17-year-old girl alleged she was gang-raped in a squat in the city's old quarter.