Cold snap could bring snow to Barcelona hills on Tuesday
Snow and cold weather warnings across Catalonia as icy temperatures continue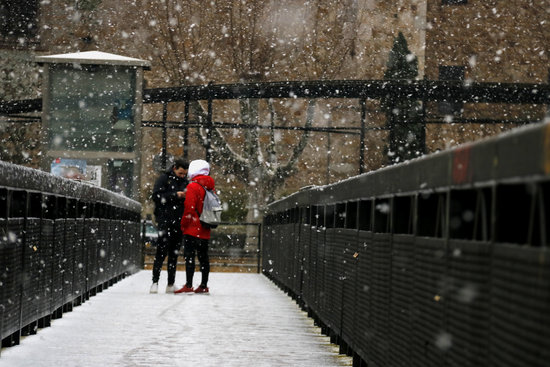 Barcelona could see snow on Tuesday as the cold snap continues throughout Catalonia after a weekend of sub-zero temperatures, including in coastal areas.
While snow at this time of year is nothing unusual in the Pyrenees and other inland and mountainous areas, forecasts suggest that the icy temperatures could see snow falling at altitudes as low as 300 meters, including in the Catalan capital.
Tibidabo, at 512 meters, is the high point of the Collserola mountain range that overlooks Barcelona.
Record low temperatures
There were widespread frosty conditions again on Sunday night, with record low temperatures recorded at two weather stations on the Costa Daurada that have been collecting data for over 20 years.
In El Vendrell, temperatures plummeted to -5.2ºC, the lowest recorded in 23 years. The previous low of -5.0ºC was recorded in January 2011.
In Vinyols i els Arcs, the mercury dropped to -3.6ºC, the lowest recorded in 33 years. Again, the previous record was in January 2011: -3.4ºC.
Snow and cold weather warnings
Snow warnings are in place across most of Catalonia for Tuesday – in the northeast in the early hours of the morning and spreading south and west as the day progresses.
The snow level will generally be between 200 and 400 meters, according to Meteocat, Catalonia's Meteorological Service, but could reach sea level in the morning in the extreme northeast.
For the Barcelona area, warnings are in place between 6am and 6pm.
Cold weather warnings have also been issued for Monday night and Tuesday morning, from midnight to 6am, across much of Catalonia.
In central and western areas, warnings of "high danger" are in place, including counties surrounding the capital, such as Vallès Oriental, Vallès Occidental and Baix Llobregat.