Catalonia will be home to 'one of world's most ambitious' universal basic income pilot plans
Academics debate program that will see 5,000 people receive cash transfers from January 2023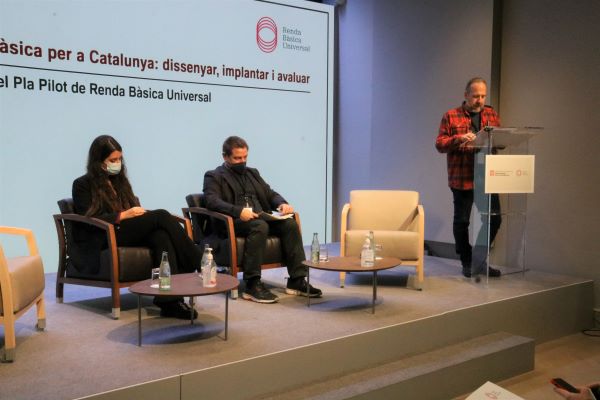 Catalonia is set to become home to a large universal basic income experiment in a year's time: 5,000 people across the territory receiving monthly sums of €300 to €950 depending on their age, income, and household size.
"It could be considered one of the most ambitious within the European context and also the entire globe," Bru Laín, an associate professor of sociology at the University of Barcelona and advisor to the Catalan Office for the Implementation of the Universal Basic Income Pilot Plan, told Catalan News.
This basic income pilot project, the methodological design of which is being debated by experts in the field on Thursday and Friday at Barcelona's Palau Macaya, will take place from January 2023 to December 2024 in a number of yet to be determined municipalities. It will not be tied to any conditions, such as employment or education, and it will be for individuals rather than households or other units.
Sergi Raventós Panyella, who heads the Catalan pilot plan office, spoke of the need for a "paradigm shift" with regard to social policies, especially given the economic toll of the pandemic across the globe.
While benefits relating to access to health or education are a given in countries with strong welfare programs, basic income experiments have led to reducing poverty and indebtedness, improving diets, decreasing stress levels, improving general wellbeing and happiness, and raising school attendance rates, among others.
What is basic income and why will Catalonia pilot one?
Since the 1960s, over 200 basic income programs in which participants received direct cash transfers for an extended period of time have been implemented across the globe, from Finland to the Netherlands, Namibia or even cities in the United States.
These have varied in their scope – with some targeting only lower-income residents and others benefiting a larger swath of the population, as Catalonia's pilot program attempts – as well as their quantity.
Unlike other experiments, this will allow researchers to draw conclusions on the effects of a universal basic income program for all residents of specific municipalities rather than a more limited target group.
The Catalan basic income pilot plan that will be put in place in Catalonia is a result of an agreement between far-left pro-independence CUP and Esquerra, the senior coalition government partner following the February 14, 2021 election: Esquerra and junior partner Junts failed to obtain a majority of seats in Parliament and needed CUP's backing in order to govern.