Catalonia's ban on bullfighting, ten years later
Top Spanish court overturned measure in 2016 but no bullfights have been held since 2011 amidst calls to end 'correbous' too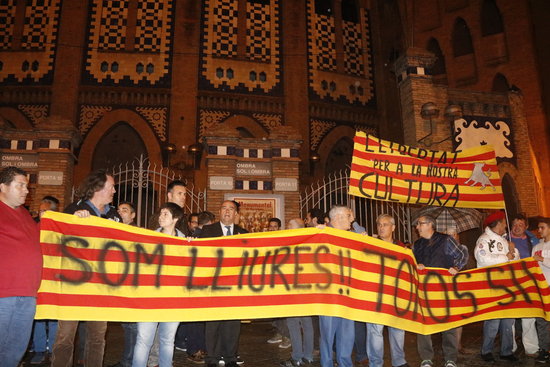 Ten years ago, the Catalan parliament banned bullfighting in Catalonia after a citizen's initiative signed by a staggering 180,000 people prompted a parliamentary debate and vote on the matter.
But even then, their popularity had long been dwindling and many bullrings had already stopped hosting bullfights. Barcelona's Arenes ring, for example, did so in 1977 and was famously turned into a shopping mall in 2011 – the same year that Catalonia's last ever bullfight was held at the Plaça Monumental bullring, owned by the Grup Balañà
"I remember that day with happiness," recalls Aïda Gascón of animal rights group AnimaNaturalis. "I was very happy because the animal rights movement had been fighting for years and it meant a step forward."
Not everyone experienced July 28, 2010 as rosily as she did. "I remember it as a significant moment in my life," says Marilén Barceló, a Barcelona city councilor for Ciudadanos. Barceló, daughter of matador Luis Barceló, defended bullfighting in parliamentary debates as the vice president of the Catalan Federation of Bullfighting Organizations.
And like many in her position, she justifies her support for the practice by appealing to notions of positive liberty: "I still believe, above all, in the defense of freedom, and in this case, the defense of culture."
'Correbous' still permitted
Another point of contention stems from the fact that the 2010 ban did not apply to all bull–related events. 'Correbous', in which bulls run through the streets or in rings but are not killed, continue to take place in certain Catalan municipalities, particularly in the Ebre river region south of Tarragona.
"It's a show put on in very few towns in Catalonia that is paid for with public money," explains Gascón, who believes the tradition would die out naturally if it weren't in part for culture grants keeping them alive at local festivities. For Gascón, like other animal rights activists or people who simply feel no fondness for the tradition, 'correbous' should no longer take place either.
People like Marilén Barceló, however, cling to the 2010 parliamentary ban's failure to include 'correbous' as evidence of the ideological bias framing the measure – politicians that backed it portrayed bullfights, strongly associated with Spanish culture, as animal cruelty, and yet still permitted Catalan 'correbous'.
2016 Constitutional Court ruling
Regardless of this debate, bullfights could technically still take place in Catalonia right now. In 2013, a law was passed in Spain declaring bullfighting to be part of all Spaniards' common historical and cultural heritage.
Then, in 2016, Spain's Constitutional Court overturned the Catalan Parliament ban, arguing the chamber had overstepped its authority. According to the court, only Spain has authority over things considered to be part of the country's cultural heritage.
There still haven't been any bullfights in Catalonia since 2011 for a number of social, cultural, and financial reasons. If anything, Catalonia seems to be heading towards putting an end to 'correbous' – with evergrowing calls for them to stop after recent incidents – than to bringing back bullfights.