Catalan president aims to boost supprot unfinished MidCat pipeline at Climate Week NYC
Aragonès wants Catalonia to be a European leader in green energy with hydrogen reaching the continent from Algeria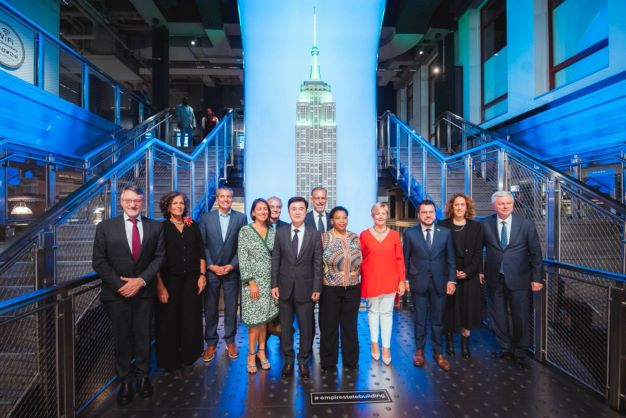 Catalan president Pere Aragonès believes that the unfinished MidCat gas pipeline connecting Africa with Europe can have a "prominent role" in promoting green hydrogen, generated with the surplus of renewables.
On a visit to the United States for Climate Week NYC, Aragonès said that he wants to boost cooperation with Germany regarding green energy in the continent.
The MidCat pipeline, which currently connects Algeria with the northern Catalan town of Hostalric but needs the approval of France and financing of either the EU or France to be extended any further, is one of the issues that Aragonès brought up at the working dinner of the leaders of the Under 2 Coalition, an alliance of regional governments that work to combat climate change.
French president Emmanuel Macron dismissed the project "nonsense" earlier this month, but the plan is still supported by Spain and Catalonia. In a press conference on energy measures, the French leader said there is "no evidence" of a need to complete the half-finished infrastructure.
Among the attendees was the secretary of state of the federal government of Germany and special envoy for Climate Action, Jennifer Morgan, according to a press release from the presidency.
At the reception in the Empire State Building, Aragonès backed "the role and possible leadership of Catalonia" in the alliance of regional governments for the climate, especially in "dialogue" with the European institutions.
Despite the fact that the Scottish first minister Nicola Sturgeon was not able to attend due to the death of Elizabeth II, the Catalan president agreed to work with the Scottish environment minister, Màiri McAllan. "Beyond the collaboration on climate policies, the Catalan and Scottish governments maintain an excellent relationship and regular meetings," the Catalan executive's office points out.
Climate Week
The president of the Catalan government attended the opening ceremony of New York Climate Week on Monday, an event bringing various world leaders together for a week, such as the president of the African Union and Senegal, US senators, Australian ministers and special envoys from Germany, Brazil, and South Africa, among others.
Representatives of the United Nations, the World Trade Organization, and the World Meteorological Organization will also be present.
Accompanied by the minister for climate action, Teresa Jordà, Pere Aragonès plans to present the Catalan government's main lines of action and future projects at the event. They are expected to announce several actions in the fields of climate and energy while in New York.