Catalan police incorporate use of tasers
1,600 Mossos d'Esquadra officers have been trained to use the non-lethal weapon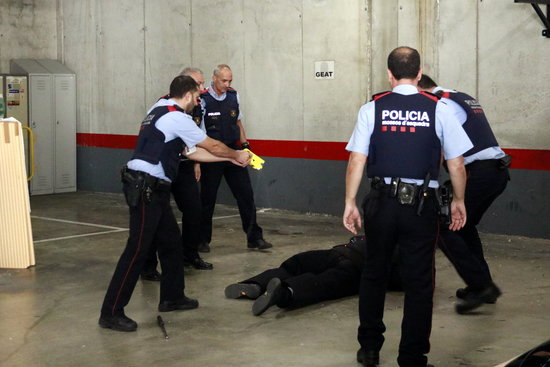 The Catalan police have incorporated the use of tasers in their daily fight against crime in Catalonia. From Monday onward, a pilot programme of the device is taking place in the region of Girona.
In total, there will be 120 tasers distributed throughout Catalonia, with a "progressive" implementation expected to be completed in September.
Around 1,600 officers from the Mossos d'Esquadra have received training on how to use the non-lethal weapons. Police will also be equipped with defibrillators in case they are necessary.
A spokesman for the law-enforcement body, Albert Oliva, explained that the use of tasers aims to reduce the time to immobilize somebody and guarantee the use of minimum force. "They must be used in very exceptional circumstances," Oliva explained.
Personal cameras
Aside from tasers, police will also be equipped with personal cameras in order to film officers' actions. The cameras will serve to regulate the use of tasers.
After implementation of the new equipment in the Girona region, plans are to use the devices throughout the rest of Catalonia.
Celebration
The Mossos d'Esquadra union has celebrated the incorporation of tasers into the security body.
In a statement made on Monday, the organization said that it is confident that the use of tasers will be extended as they help solve "diverse, complicated situations we often have on the street."