Catalan NGO shortlisted for European Parliament human rights award
Proactiva Open Arms jointly with other search and rescue groups one of three finalists in contention for prestigious prize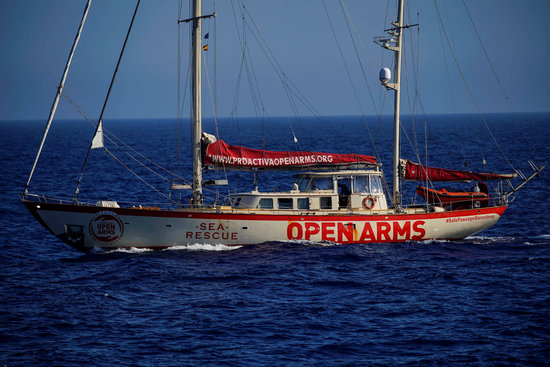 Catalan NGO Proactiva Open Arms, along with a dozen other organizations devoted to search and rescue in the Mediterranean, are on the shortlist to win this year's Sakharov Prize for Freedom of Thought, the EU's most prestigious human rights award.
The European Parliament Committee on Foreign Affairs chose the three finalists for the prize on Tuesday behind closed doors, after the Socialists and the Greens together put forward Proactiva Open Arms for the prize along with other similar organizations.
The other groups shortlisted for the award jointly with Proactiva Open Arms are the Boat Refugee Foundation, Jugend Rettet, Lifeline Rescue Boat, Médecins Sans Frontières International, MOAS, PROEM-AID, Save the Children, Sea Eye, Sea Watch and SOS Mediterranée.
The two other nominees with a chance of winning the award are the Ukrainian filmmaker Oleg Sentsov, who was put forward by the European People's Party, and the Moroccan activist Nasser Zefzafi, who was nominated by the European United Left-Nordic Green Left.
Finalists from a list of eight nominees
The MEPs chose the three finalists from a total list of eight nominees that were put forward by the different political groups in the European Parliament at the end of last month.
The nominees that did not make the final shortlist are German lawyer Seyran Ateş, former Syrian war photographer 'Caesar', American Dewayne Johnson -the first person to win a case over the use of chemicals by the Monsanto food company-, the South African AfriForum organization, and the pro-life activist Mary Wagner.
After the votes for the finalists have been cast, it will be down to the Conference of Presidents of the European Parliament to choose the winner on October 25. The award ceremony will take place in Strasbourg on December 12, coinciding with the final plenary session of the year.
The prize created in 1988 is awarded every year by the European Parliament to honor individuals or groups dedicated to the defense of human rights and freedom of thought. The award, which is named after Russian scientist and dissident Andrei Sakharov, is this year celebrating its 30th edition.