Cannabis clubs in Catalonia, permitted places for an illegal drug
There are 500 marijuana-related associations in a legal loophole where residents gather to smoke weed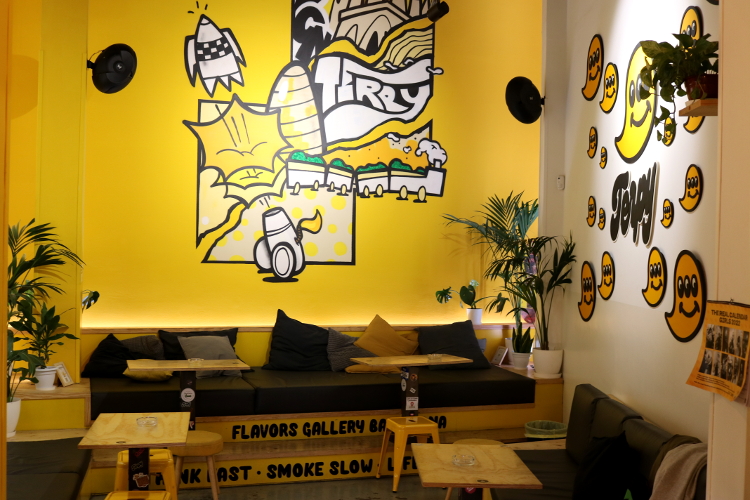 Catalonia has over 76,000 registered associations, according to figures shared by the Catalan justice ministry. Each one has a different goal and unites people with a shared activity. These associations can center around different subjects from architecture to music – or even marijuana.
In some 500 of these associations, people gather to smoke weed, given that it is not explicitly illegal to do so. The reason cannabis clubs exist is due to a legal loophole, or a "gray area" as those involved with this kind of association say.
To open any kind of association in Catalonia, there is a requirement of a minimum of three members. Some cannabis clubs may have up to 400 associates, especially in Barcelona where there are around 200 clubs. In other cities and towns, the number may vary depending on the place they are based.
But in these clubs, the clientele doesn't only go to smoke weed. "There is a variety of activities, a pool table, the PlayStation to spend some time with friends," Javíer Díaz, owner of Los Mejores Humos ('The Best Smokes' in English), a specialized blog on cannabis and associations, explained to Catalan News.
Sometimes, members of cannabis clubs organize several talks on marijuana-related health issues with experts, chats with lawyers on weed advice, and even host art exhibitions of members' work.
Dodgy, dirty, and scary exclusive places
Contrary to what one may think, cannabis clubs always "try to have natural light," Díaz explained.
One of the clubs Catalan News visited, Terpy, near Barcelona's MACBA museum, was painted white and yellow and had plenty of natural light. People would go there to socialize and work, as there are tables that consumers can use, and enjoy a joint, the most unique aspect of these bar-style places.
Another club Catalan News visited had a different style, as the entrance was designed with translucid windows allowing natural light to go in, but maintaining discretion.
But these places are not accessible to everyone. To enter a cannabis club "you need to be 18 years or older, smoke weed, and want to be part of an association," Javier Díaz said. "You can be allowed in if you have been vouched for by another member of the club," he added.
Between 2011 to 2013, there was a spike in cannabis clubs in Catalonia, but now the number has decreased to around 500, according to figures shared by the Federation of Catalan Cannabis Associations (CatFAC).
Another prerequisite to enter such a place is to be a resident near the association you want to join. Some of these clubs are reported to have broken the law as they allowed tourists to enter.
Legal place for an illegal drug
One of the main reasons cannabis consumers say associations are in a legal "gray area" is because weed is illegal in Spain. However, consumption of any substance in a private place is permitted.
The association doctrine says that "if you are an adult person and you consume any kind of drug, you have to do it in a private sphere, but you can do it. It is not penalized here in Spain. It's decriminalized to consume any kind of drug in your house or in a private place," Patrícia Amiguet, president of the Federation of Catalan Cannabis Associations, explained to this media outlet.
"It is a gray area as there are no specific laws, but there is a right to cannabis self-consumption. What law enforcement authorities fight are selling and trafficking the drug," Javier Díaz told.
The legal problem is that associations in Spain are completely legal, as article 22 of the Spanish Constitution states. However, marijuana is technically not legal, despite the fact that 90.1% of the Spanish population is in favor of medical marijuana and 49.7% is in favor of recreational use, according to a report published on April 2021 by Spain's Centre for Sociological Research.
Lack of regulation
In 2016, the Barcelona city council passed a law to regulate cannabis clubs, setting some requirements for associations to open such spaces.
The regulation, however, was rejected as Catalonia's High Court struck it down on the grounds that the city did not have the authority to implement it and instead ruled that criminal authorities and police should have control over clubs.
The law established a minimum distance of 100 meters between cannabis clubs and schools or children's playgrounds, double doors so the interior was not visible from the street, as well as smoke extractors and chimneys on the building roof.
The bill was appealed by one of the local associations as their establishment did not have any building roof to place a chimney, therefore they wanted to extract the smoke via the façade.
The city council appealed the court's decision but the court rejected their request. The move by the association puts the existence of cannabis clubs in danger.
How do these "safe places" get their weed?
One of the activities associations organize is talks with health experts and even campaigns with the Catalan health department. Health authorities in Catalonia are even in favor of regulation, despite not agreeing on people consuming the drug.
Members even call these places "safe" as "users prefer to be part of an association as they can control much better what they are consuming," Javier Díaz said, adding that they can "share information with other members, be treated in a normal way not as if they were hiding in a dark corner on the street."
In fact, marijuana is mainly harvested by the association itself. Once it is ready, weed is transported to the club after signing some paperwork.
This weed is paid by the amount consumed. Every member pays its membership fee as well as the cost of production of the cannabis.
"You say: 'I would use five grams of weed, every month. So, these 60 grams of weed, have this cost of production, so that is what you will pay at the end of the year," Amiguet explained to Catalan News.