Blood drive starts Friday aiming for 10,000 donations in a week
Around 260,000 donations needed throughout 2023 with particular focus on cancer patients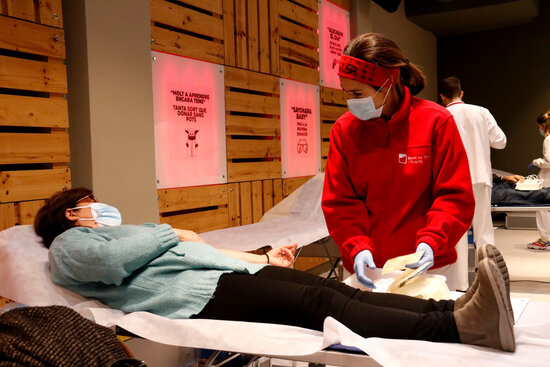 Catalonia's annual blood donation drive (La Marató de Donants de Sang) will start this Friday, January 13, with the aim of reaching 10,000 donations in a single week.
The event will run until Friday, January 20, under the slogan 'Donating blood sounds good' (Donar sang sona bé).
The blood drive takes place in January, as in previous years, to make up for the drop in donations during the Christmas holidays, but this year there is a special emphasis on the needs of cancer patients.
Three out of every ten blood transfusions required are for treating people with cancer.
The Blood and Tissue Bank hopes to see the number of new annual donors return to pre-Covid levels. The pandemic meant that the usual 30,000 first-time donors a year dropped to around 20,000.
Overall donations have been recovering: In 2022, a total of 253,494 donations were received, compared to 252,832 in 2021. That figure, however, is still too low to cover the estimated 260,000 donations that will be needed throughout 2023.
There was enough blood donated in 2022 to cover patients' needs, according to the Blood and Tissue Bank president Andreu Mas-Colell, but non-Covid hospital operations have been returning to normal levels and therefore more donations will be needed.
The drop in donations around Christmas is usually around 20%, with the January blood drive seeking to recover what was lost during the holiday period.
This year the figure of 10,000 donations has been set as a challenge, more than 1,000 per day, a "feasible" goal, according to Mas-Colell.
From donor to recipient
At the campaign launch, Marta Gilart explained her experience, first as a donor and then as a recipient.
Gilart first donated blood aged 18 following a "family tradition" but at 22 she was diagnosed with breast cancer and ended up receiving transfusions while undergoing chemotherapy. "When your defenses are low and they put a bag of blood in you, you feel the vitality," she explained.
Gilart encouraged everyone to become a donor because it "doesn't harm you" and it "gives life" to other people.
The mayors of Barcelona, Girona, Lleida, and Tarragona, called on all citizens to visit one of the 60 donation points that will be set up during the blood drive and to make a gesture that allows life to be given to those in need.
More information on donating blood can be found at www.bancsang.net.