Barcelona's 8th Mobile Social Congress seeks to 'activate fair and sustainable technology'
Alternative to MWC will address "invisible effects of industry" from February 27 to March 4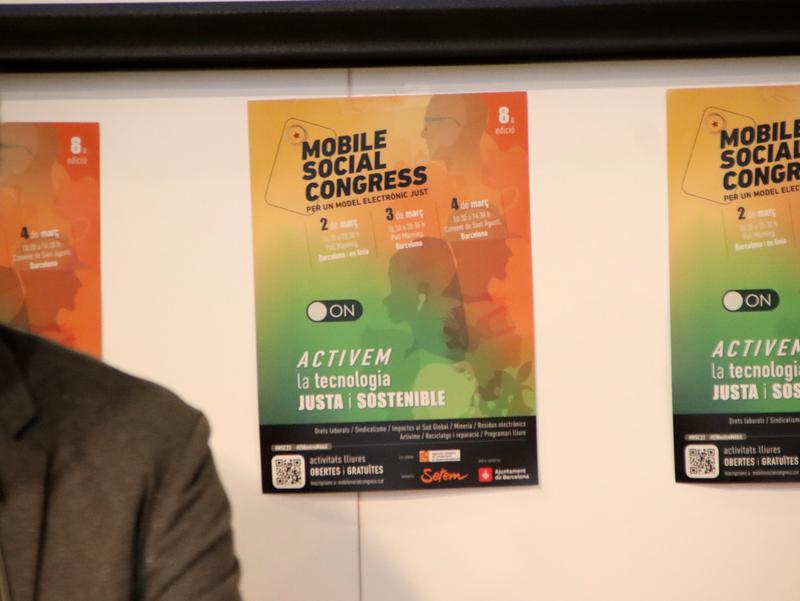 The 8th edition of Barcelona's Mobile Social Congress, a socially minded alternative to the Mobile World Congress trade show that will also begin on February 27, will stress the importance of "activating fair and sustainable technology."
This year's event, organized by the SETEM Catalunya NGO and backed by the council and the Catalan Development Cooperation Agency, will start off at the gates of the MWC with an awareness-raising "action" about "the effects of the technology industry that are invisible" at the mobile industry trade show.
Workshops, presentations, and a film
This will be followed by three days of in-person and online workshops, presentations, and a film forum from March 2 to 4, and includes talks on the electronics industry in the Philippines, the effects of mining, and the right to freedom of association around the globe.
These will be given by people with first-hand knowledge about the issues, from lawyers and human rights defenders to union members and researchers from here and abroad.
Edward Scott-Clarke's 2018 film 'e-Life' will be screened on the Friday evening and will be followed by a discussion with a member of Good Point Recycling, a US-based electronics recycling company.
There will also be a so-called "Restart workshop" to teach people how to repair small electric devices and a workshop for children to teach them about human rights and responsible consumption.
A complete program can be found here.
Event to "shed light on human rights violations"
"Technology has opened many doors for us, but we shouldn't forget how it is produced," Clàudia Bosch, the head of SETEM Catalunya's electronics awareness campaign, said in a press conference on Thursday in Barcelona to present this year's edition.
According to David Llistar, the director of Global Justice and International Cooperation for the Barcelona city council, events like the Mobile Social Congress are important because exhibitors at the MWC "possibly" are not aware of the effects their industry can have on things such as mining in Africa and Latin America.
"We must shed light on human rights violations and find solutions," he added, explaining that local authorities were working to introduce new clauses in public contracts to ensure fairer purchasing practices.
Anyone interested in attending the free event can sign up here. In-person workshops and talks will take place at the Pati Manning auditorium located at Carrer de Montalegre 7 in the city center.