Barcelona stations crowded as metro workers strike
Employees demand better working conditions after asbestos was found on underground train system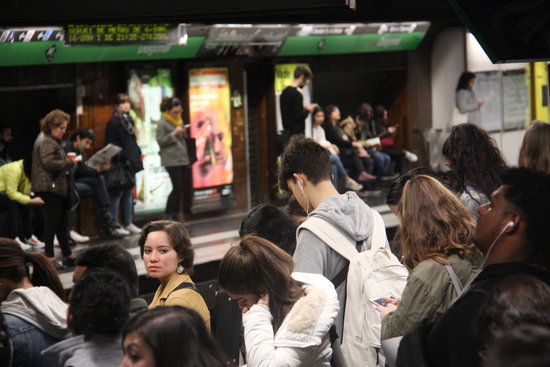 Barcelona Metro workers went on strike again on Monday, leaving underground stations and platforms heavily crowded, with lines 1 and 5 particularly affected.
As with previous stoppages, the strike is to demand better working conditions after asbestos was found in underground trains and stations. Last year, asbestos was detected in 93 different metro train carriages.
In January this year, it was reported that 12 maintenance workers in Barcelona's underground transport system had suffered from damage done by the asbestos.
Transit operator TMB reported 17% fewer passengers using the metro system between 7am and 9am, with many passengers telling the Catalan News Agency (ACN) that they were resigned to the delays caused.
Last week, TMB announced it was inviting bids from companies to remove asbestos from the metro system in a contract worth 2.8 million euros. With another 3.6 million euros already pledged, the company says it will spend a total of 6.4 million euros on the crisis.