Barcelona protesters condemn 'violence' on Greece-Turkey border
Some 200 people turn out in Catalan capital to demand "secure and legal" avenues to resolve EU migrant crisis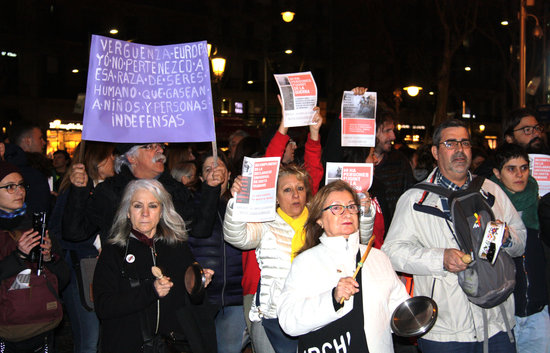 Some 200 people, say local police, turned out in Barcelona on Tuesday evening to protest the "violent actions" seen on the border between Greece and Turkey after the latter lifted controls on migrants trying to enter the European Union.
Organized by the Stop Mare Mortum platform, the protesters banged pots and pans outside the European Commission's office in the Catalan capital to condemn Greece's decision to suspend asylum applications, which they say goes against the Geneva Convention.
Turkey lifted controls on migrants trying to get into the EU last Friday, which led to clashes between thousands of migrants and Greek security forces over the weekend. One video showed a Greek coast guard firing warning shots next to a dinghy carrying migrants.
As well as condemning the handling of the situation by the Greek authorities, the protesters criticized the EU for putting border security ahead of human rights, and they called for "secure and legal" avenues for accepting migrants in European territory.
Turkey's decision to drop the migration restrictions amounts to it abandoning a deal struck with the EU in 2016 in which the country agreed to restrict migrants entering the union in exchange for six billion euros in EU aid for migrants and refugees.
Catalan organizations call for "cycle of violence" to end
On Wednesday, the Fons Català de Cooperació al Desenvolupament, an organization made up of Catalan town councils and other local authorities, issued a statement calling for an end to the "interminable cycle of brutal violence" against migrants and refugees.
The organization, which helps fund development cooperation initiatives to aid people in disadvantaged countries, also called on the EU to prevent "the violations of human rights, including mistreatment, and the excessive use of force" by its member states.
Meanwhile, Lafede.cat, which is made up of 117 Catalan organizations seeking "global justice", also issued a statement condemning Greece, Turkey, and the EU, and backing the demonstrators and their demands for humanitarian solutions to the migrant crisis.