Barcelona hospital first to use radiotherapy to treat irregular heartbeat
Hospital del Mar introduces pioneering treatment for arrhythmia, while IDIBELL researchers unveil mechanisms that promote metastasis in skin cancer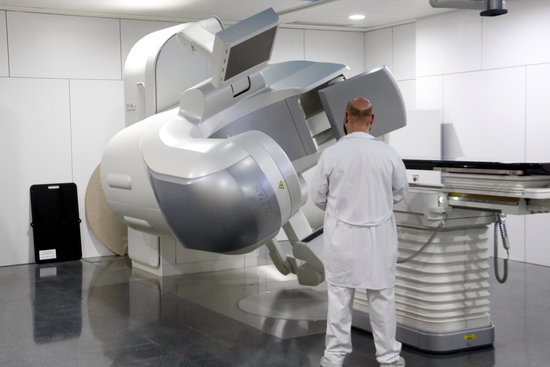 Barcelona's Hospital del Mar is the first in Spain, and one of the first in the world, to use radiotherapy to treat heart arrhythmia, otherwise known as irregular heartbeat.
The pioneering technique, developed between the hospital's Cardiology, Radiotherapy and Oncology, and Radiology services, has already been used on one patient.
The technique means patients who have not responded to the usual treatments can now be treated without the need for them to undergo a heart transplant.
The treatment involves applying a high dose of radiation to the dysfunctional area of the heart, which creates scarring and eliminates the arrhythmia.
Hospital del Mar is one of the few hospitals in Spain that can carry out the procedure due to the technology it has available, which avoids damaging other organs near the heart.
The procedure, which has been successfully carried out in a score of patients in the US, lasts around 30 minutes, and is done under the supervision of a cardiologist.
The first patient to undergo the treatment was a 64-year-old man suffering from an inherited disorder known as arrhythmogenic right ventricular dysplasia.
The procedure took place on December 21, and since then the arrhythmia has disappeared. It is only the second case in the world that this disorder has been treated with radiotherapy.
Breakthrough against recurrent skin cancer
Also this week, researchers from the Bellvitge Biomedical Research Institute (IDIBELL) identified the mechanisms that promote metastasis in skin carcinomas.
The research found that therapy based on such chemical inhibitors as imatinib or plerixafor, drugs already used to treat other tumor types, is effective in stopping the metastasis of most aggressive and recurrent skin carcinomas.
Most of these skin cancers can be treated with surgery, but a subset of patients develops recurrent tumors that show an aggressive and invasive growth, and a high-risk of metastasis.
These advanced tumors are generally treated with conventional chemotherapy and/or radiotherapy, but these treatments yield little clinical benefits.
The IDIBELL study, carried out with researchers from the Bellvitge University Hospital and the ProCURE program (IDIBELL-ICO), has been published in the 'Oncogene' journal.