Barcelona and Tel Aviv should no longer be twin cities following airstrikes on Gaza, say NGOs
Lafede.cat asks government to end security sector ties to Israel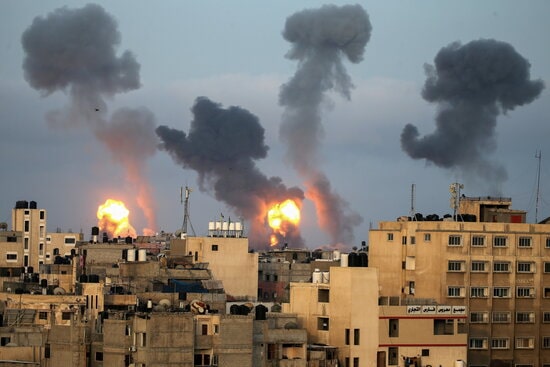 Lafede.cat, a federation of over 100 Catalan NGOs, has urged Barcelona mayor Ada Colau to put an end to the Catalan capital's twin city relationship with Tel Aviv following the devastating Israeli airstrikes on Gaza.
In a manifesto published on Monday, the federation calls for "efforts to be stepped up as well as contacts with local civil society groups in order to de-escalate violence, protect and defend human rights, and to end the occupation."
According to Lafede.cat, the Catalan government should end all security sector ties to the country and no longer have the public Agency for Business Competitiveness (ACCIÓ), which promotes Catalan businesses abroad, consider it a strategic region.
Lafede.cat also believes that the Spanish government should stop buying and selling weapons from Israel, adding that authorities should not employ the services of "companies that profit from human rights violations of the Palestinian people."
As of Tuesday, over 200 Palestinians and 10 Israelis have been killed as hostilities enter the second week.
Citing the recent Israeli Supreme Court ruling greenlighting the eviction of four Palestinian families in East Jerusalem, Lafede.cat argues that these developments must be understood within the context of "the ethnic cleansing of the Palestinians that Israel has been carrying out for the past 70 years."
The federation of Catalan NGOs notes that, according to a Human Rights Watch report published a few weeks ago, there is an ongoing situation of "systematic oppression of Palestinians and inhuman acts committed against them" that are "tantamount to the crime of apartheid and the persecution of the Palestinian people."