Ban on bars and restaurants lifted in towns under 10,000 inhabitants
Measures have come into force on Friday and include removing set time slots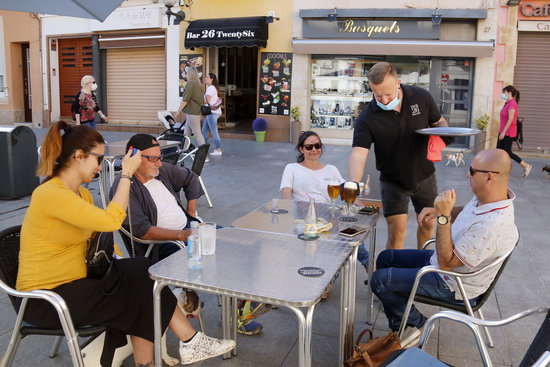 Bars and restaurants are able to open from this Friday in towns under 10,000 inhabitants, Spain's official gazette (BOE) published on Friday morning.
The measure includes that not only outdoor seating areas of such establishments can open, but also their interior, at 40% of their capacity.
The BOE also establishes that set time slots per age group and activity are also lifted for towns of populations less than 10,000 as of this Friday - something that had been announced last weekend, but that had not come into force.
The municipalities included in the measure are all towns of 10,000 inhabitants with a population density of less than 100 people per km2, also those in Phase 0 and Phase 1.
Bars and restaurants, with the exception of nightclubs and nightlife venues, may open for indoor consumption, but at a maximum of 40% capacity. Consumption indoors should be done at tables, preferably by prior reservation, and self-service at bars will not be permitted.
Tables must be kept at a distance of at least two meters. Ordering food and drinks to take away can be allowed in the establishment itself.
Service to terraces will be carried out in accordance with the safety precautions of phase 1. In addition, the councils may authorize street markets.