AP-7 highway: no trucks at certain times and additional lanes over summer weekends
40% more traffic since tolls lifted means public transport needs improvement, says government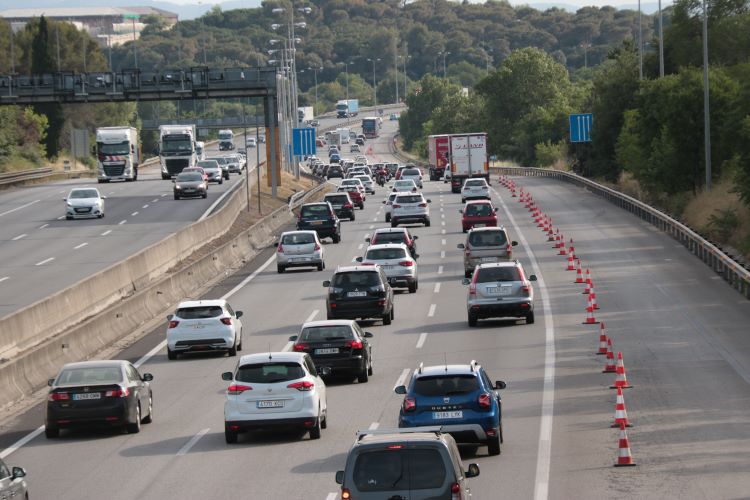 Starting on June 25 and all throughout July, trucks will be not allowed on the AP-7 on Saturdays from 10 am to 2 pm and Sundays from 5 pm to 10 pm in an effort to reduce traffic congestion on the highway, as was announced by Catalan interior minister Joan Ignasi Elena on Tuesday.
Trucks will only be able to drive in the right lane and at a maximum speed of 80 km/h on Fridays and days before a public holiday.
Bumper-to-bumper traffic has become a fixture on the highway, especially but not only on weekends, when thousands upon thousands of vehicles leave and then return to the Barcelona area.
Additional lanes will also be opened at certain points over the same period, such as near Sant Celoni, and tow trucks will be positioned in strategic areas in order to quickly remove vehicles that have been in accidents and prevent further traffic jams.
Catalan authorities will also ask the Spanish government for permission to bring the speed limit down from 120 km/h to 110 km/h or even 100 km/h at certain points along the highway as more than half of all accidents are caused by not keeping safe separation distances between cars. And the more accidents there are, Elena argued, the more traffic there is too.
There has been a 40% increase in traffic on the AP-7 since tolls were lifted almost a year ago, and while there are still somewhat fewer vehicles on the road now than in 2019, before the pandemic hit, Elena acknowledged the highway was "at capacity."
Elena was also quick to blast the Spanish government, which he accused of "systematically failing" to invest in infrastructure in Catalonia, both in terms of roadwork and improving the Rodalies Renfe commuter train network.
"Public transport needs to be a real alternative to driving," he said.