Anti-capitalist CUP considers reporting Catalan police over mass eviction in Badalona
Politicians say Mossos d'Esquadra acted "violently" and attacked them while protesting measure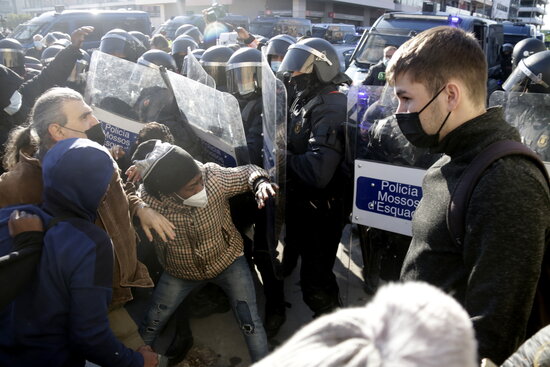 People's Unity Candidacy (CUP) leaders are considering filing a complaint against the Catalan Mossos d'Esquadra police for acting "violently" on Thursday during a mass eviction in a warehouse in Badalona, a city neighboring Barcelona to the north.
In an interview with public radio station Catalunya Ràdio's morning show on Friday, current CUP MP and former Badalona mayor Dolors Sabater and MP Basha Changue said that police attacked them and other protesters while they were attempting to prevent the eviction of 100 people.
The eviction started around 10 am on Thursday after a judge in Badalona rejected the adjournment that had been requested by those living in the warehouse for some years, including migrants who survived the deadly fire in another industrial estate over a year earlier.
The squatters had asked the court for more time to find a solution citing a lack of house alternatives, low temperatures, and the Covid-19 pandemic. After several negative answers from the court, some of the warehouse's residents had already packed their belongings and left by the time the police arrived.
Two hours later, however, officers charged against people demonstrating outside the warehouse and evicted those who remained.
The vast majority of those evicted ended up spending the night in front of the warehouse as they "do not have anywhere else to sleep," Ansoumani Kouyate, from Guinea, told the Catalan News Agency (ACN) on Friday morning.
Badalona mayor Rubén Guijarro said during a press conference on Thursday afternoon that the city council had never considered requesting an eviction suspension as he argued the people in question were homeless and "living poorly" in "inhumane" conditions.
Badalona's social services are now responsible for taking care of vulnerable people. But by Thursday afternoon only around 10 people had asked for help.