American School of Barcelona staff demonstrate for better conditions in face of inflation
Prestigious education center among most expensive in Catalonia, but teachers feeling "crunch" of rising cost of living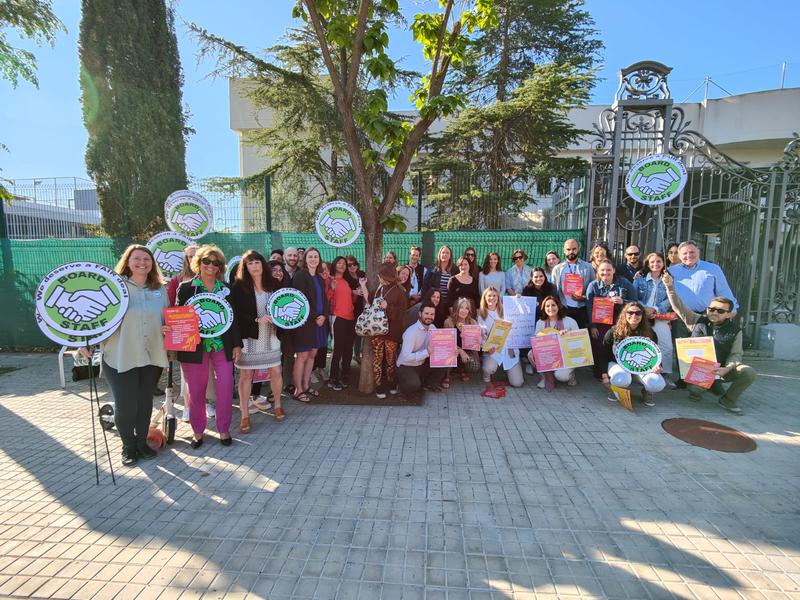 Workers at the American School of Barcelona (ASB), one of the most prestigious private schools in the country, have been demonstrating at the doors of the education center each morning this week to demand better working conditions. Up to 90 staff members have taken part in the demonstrations all week according to the organizers, with 40-60 each day, out of a total of nearly 200 full-time workers at the school.
Backed by the CCOO union, representing a two-thirds majority of the ASB staff, the protesting group is largely made up of teachers and teaching assistants and includes foreign workers and locals alike, from Americans, Canadians, British, Irish, Spanish, and Catalan.
Teachers and staff members are demanding a 6% increase in salary to keep up with the rising cost of living. This 6% would be on top of a further 3% staff are guaranteed in their labor agreement (known as the 'conveni colectiu' in Catalan.)
The American School of Barcelona, which counts the children of Gerard Piqué and Shakira among its student body, is one of the most expensive education centers in Catalonia, with annual fees next year ranging from €8,864 for half-day pre-school options, up to €24,766 for the eldest grades. There are also annual matriculation fees of €975 per child, and a capital levy of €3,000 or €6,000 depending on the grade, to be paid per child enrolled. Fees are increased in the event that corporations are paying on behalf of families.
One staff member participating in the demonstrations explained to Catalan News that a 2009 agreement saw workers get a significant increase in pay that year, but that the only increases in base salary offered since then have been the minimum increases provided by the law as part of the labor agreement. "Those increases have not kept pace with inflation, and as inflation is very high right now, people are very much feeling that crunch," the demonstrating worker said.
Ultimately, many teachers feel they cannot afford to live in Barcelona and end up leaving their job and the city due to what the demonstrating staff call low wages: "Teachers are leaving because they find it difficult to pay rent and to live."
Mark Pingitore, director of the American School of Barcelona, pointed out to Catalan News that the school also has an internal agreement "that gives extra compensation that surpasses requirements," such as annual step increases of €300, free lunch and bus services, and personal development.
In addition to a "top" salary compensation package the school offers, the school offers a variety of other benefits that staff enjoy, such as free tuition for children of staff members, and a one-time bonus of €1,500 last autumn, equivalent to around 5% of the teachers' salaries.
The staff member taking part in the protests this week acknowledged that the school offers "more benefits and to some extent higher salaries than perhaps some other private schools," but highlighted that the American School of Barcelona has very high fees which are growing.
Pingitore, meanwhile, explained the increase in fees was down to the fact that the school has grown from 800 students to 1,000 in recent years, and pointed out that incomings are invested back into the education program.
Differing stances of unions
Mark Pingitore said that the school wants to raise the compensation package for staff members. The board has agreed to meet with the two unions that represent the staff members, CCOO and USOC, next week or soon, to try to resolve the situation.
CCOO are the majority union, holding six of the nine workers' committee seats as voted by all staff members, while USOC hold the other three. The demonstrations are only backed by CCOO.
USOC have previously put forward a proposal to the school board with a package for increasing worker compensation which was favored by the board but ultimately didn't go to a vote among staff because it was rejected by CCOO. David Fernández, from the CCOO union, described this proposal as "empty."
One of the biggest stumbling blocks, in the eyes of CCOO, is what the proposal of USOC would mean in terms of benefits for future ASB workers. The salary demands are quite similar – 6% of CCOO, and 5.5% of USOC, both on top of the rise legally required in the labor agreement – but whereas CCOO wants the new agreement to include no changes in terms of benefits, USOC's proposal would see changes to the school's child policy for faculty staff.
At the moment, all children of ASB staff can attend the school for free, but USOC's proposal would change this, including families paying 50% for their second child, as well as some other changes that would not affect current staff members whatsoever, only member who join after the implementation of this new agreement.
CCOO worry that this would generate "division" among the staff, with some enjoying a better set of benefits than others, and also predict that the modifications would, in the long-term, give the workers less favorable conditions. USOC, meanwhile, say that "concessions" are needed to "reach a mutually accepted agreement."
"Solidarity" among demonstrating workers
The staff "feel they give a lot" to the school, the worker taking part in the demonstrations this week told this media outlet, adding that there are "very high expectations" to be kept up in such a prestigious learning environment, and teachers feel they "provide a very high level of service of education, high quality, and [they] think what [they're] asking for is reasonable."
"I think it's very positive and wonderful to see us coming together and standing up for ourselves for what we think we deserve as workers," the member of staff told Catalan News. "There is a lot of feeling of solidarity out there with people you work with doing something together for all of you. It's scary, for sure, but if you have enough people together then it's not so scary because we're all together, we all want this."