Almost 50,000 Catalans gave up smoking in 2021 to reach all-time low of 22.6%
6.6% of non-smokers say they are exposed at home, according to government survey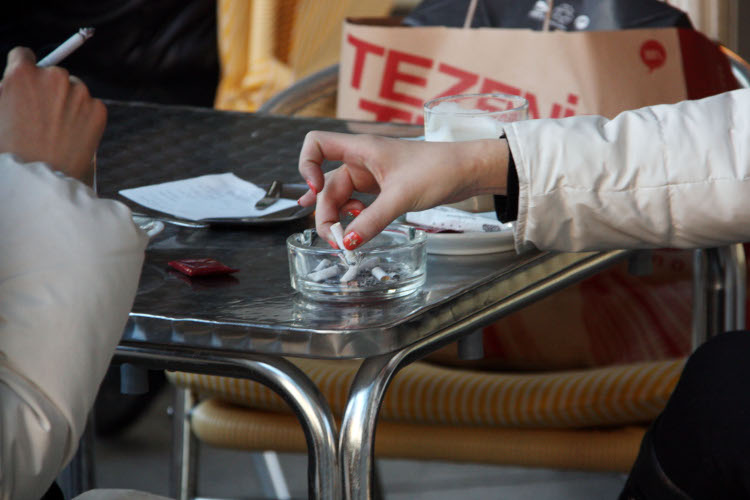 Almost 50,000 people residing in Catalonia gave up smoking in 2021, which contributed to an all-time low in the proportion of smokers, decreasing from 24.6% in 2020 to 22.6% last year, according to the latest health department survey.
Last year, 38,778 people managed to stop smoking after being advised by primary care, and 8,511 more kicked the habit following treatment at one of the health centers in the Catalan Network of Hospitals without Smoke (XCHSF).
The figures are slightly lower than those of the past five years, ranging from 24% to 26%, and significantly lower than the first half of the 2010s, at 26% to 30%.
Between 1990 and 2010, smoking rates oscillated between 30% and 33%, that is, a third of the population.
In 2021, the latest data available, less than a fourth of Catalans smoke either regularly (20.2%) or occasionally (2.4%).
Men, at 26.6%, down 1.2 percentage points on 2020, are more likely to be smokers than women, at 18.8% - a 2.5 percentage decrease on the previous year.
On the day marking the World No-Tobacco Day, May 31, authorities point out that around 10,000 people die every year due to conditions caused by the consumption of tobacco or being exposed to it.
Pharmacies, professionals working for the 061 health service hotline, and health centers tackling drug addictions can also help anyone interested in giving up smoking.
Indeed, the 061 hotline alone has helped 35,000 give up smoking in the past 15 years.
The survey also found that 6.6% of non-smokers say they are exposed to smoke at home (5.8% of men and 7.3% of women).
Smoking, 'a real threat against environment'
Growing tobacco, producing cigarettes – also electronic ones – and cigarette butts have a negative impact on the environment.
Thus, the Catalan health department's campaign against smoking this year focuses on its effects on ecosystems.
According to official figures, 28 million trees were chopped down to make cigarettes worldwide last year, and 2,480m3 of toxic waste is generated every year in Catalonia – a single cigarette can contaminate up to 10 liters of water.
Butts were to blame for the burning of 12,000 hectares of forests in the country in the past decade, and 15.4% of fatal fires in households.