55% wants to wait to see effects before getting Covid-19 vaccine: poll
Survey shows that young women with superior studies are the most cautious, as 16% would not allow getting dose even after doctor's advice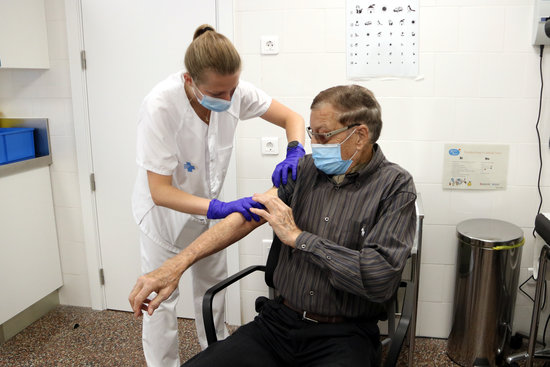 Most Spaniards would not allow the Covid-19 vaccine be administered immediately after it becomes available. This is the main conclusion found by the latest survey of CIS, Spain's public opinion institute on Friday.
In a poll where 2,131 people from across Spain were interviewed, 55.2% of those asked said they would "wait to see the effects" of the jab before accepting it – in Catalonia and across Spain, the Covid-19 vaccine will not be compulsory.
Spain expects to begin vaccinations in early January and administer it to 20 million of its residents, 42% of the total, by June. Catalonia's health department aims to persuade at least 70% of the population to get the jab during the whole process.
The survey, which does not include disaggregated results per territories, show that not even one in three would be "ready to be immediately vaccinated" (32.5%).
Those who would by no means accept a Covid-19 vaccine are 8.4% of those who took part in the survey, but this figure raises to 16.7% when asked whether they would allow being given a dose if a doctor advises it or there is risk of transmitting the virus to a close relative.
Per ages, the younger, the more cautious: only 20.8% of those in the 18-24 age range would get it and 72.3% would wait and see first; 23.9% of those who are between 25 and 34 would not think twice before getting it, while 61% would. These figures steadily flip as the age range is higher, and 38.9% of those over 65 would be ready for the jab, while 46.9% would be more cautious.
Per genders, women are taking a more careful approach: only 26.3% of female interviewees would allow a vaccine immediately (39.3% of men would), while 60.7% of women would wait to see the effects (49.2% of men).
In terms of studies, the more superior, the less predisposed: exactly half of those without any finished studies would accept it without any doubts, and only 38.7% would think twice. At the other end of the studies scale, 56.9% of those with university degrees and similar would wait to see the effect first (only 33.6% would get it straightaway).