3,000 demonstrate in Barcelona to protest violence against women
"If we were being killed by terrorists everyone would be taking action, but we are just women, so they don't," says a participants in the march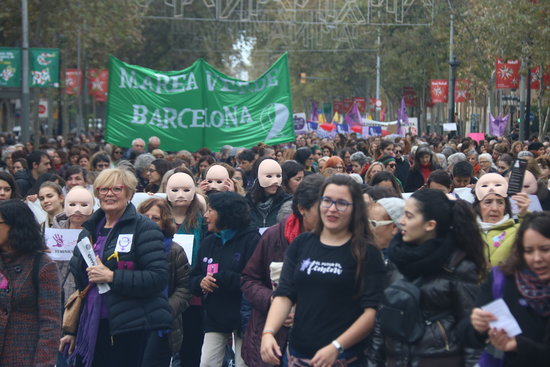 More than 3,000 people took to the streets of Barcelona on Sunday to protest violence against women.
Using mottos such as 'Together we will put an end to the patriarchal regime' or 'We have decided to speak out', organizers criticized that the judicial system doesn't protect women.
They mentioned recent rulings by Spanish judicial system. In La Manada case, five men were cleared of rape and sentenced for sexual abuse instead, while in Lleida a judge sentenced two men to four and a half years in prison for sexually abusing a 20-year old woman.
In this latter case, and despite acknowledging that the woman repeatedly asked her attackers to stop during the ordeal, the sentence takes into account the fact that the woman did not physically resist them, and so the men did not resort to "violence" and "intimidation."
Laia Serra, member of the 'Feminist November' platform, said authorities are now becoming more open to women's demands, but it has took a long time for them to consider them seriously. Serra said that society is also more aware of the situation and speaks out against violence.
But all of those taking part in the march, agree that there is still a long way ahead. "If we were being killed by terrorists everyone would be taking action, but we are just women, so they don't," said Maria, one of the participants.
Authorities such as the mayor of Barcelona, Ada Colau, the Parliament speaker, Roger Torrent, the vicepresident of Catalonia, Pere Aragonès or the spokeswoman of the government, Elsa Artadi took part in the march.
In a joint manifesto, authorities from the Catalan government and local institutions admitted that "more resources" are needed to help fighting violence against women, and help and protect those that come forward as victims.