2 years of pandemic: 'I still dream about connecting a colleague to a respirator'
Doctor and long Covid patient tell life-changing stories about their experiences since March 2020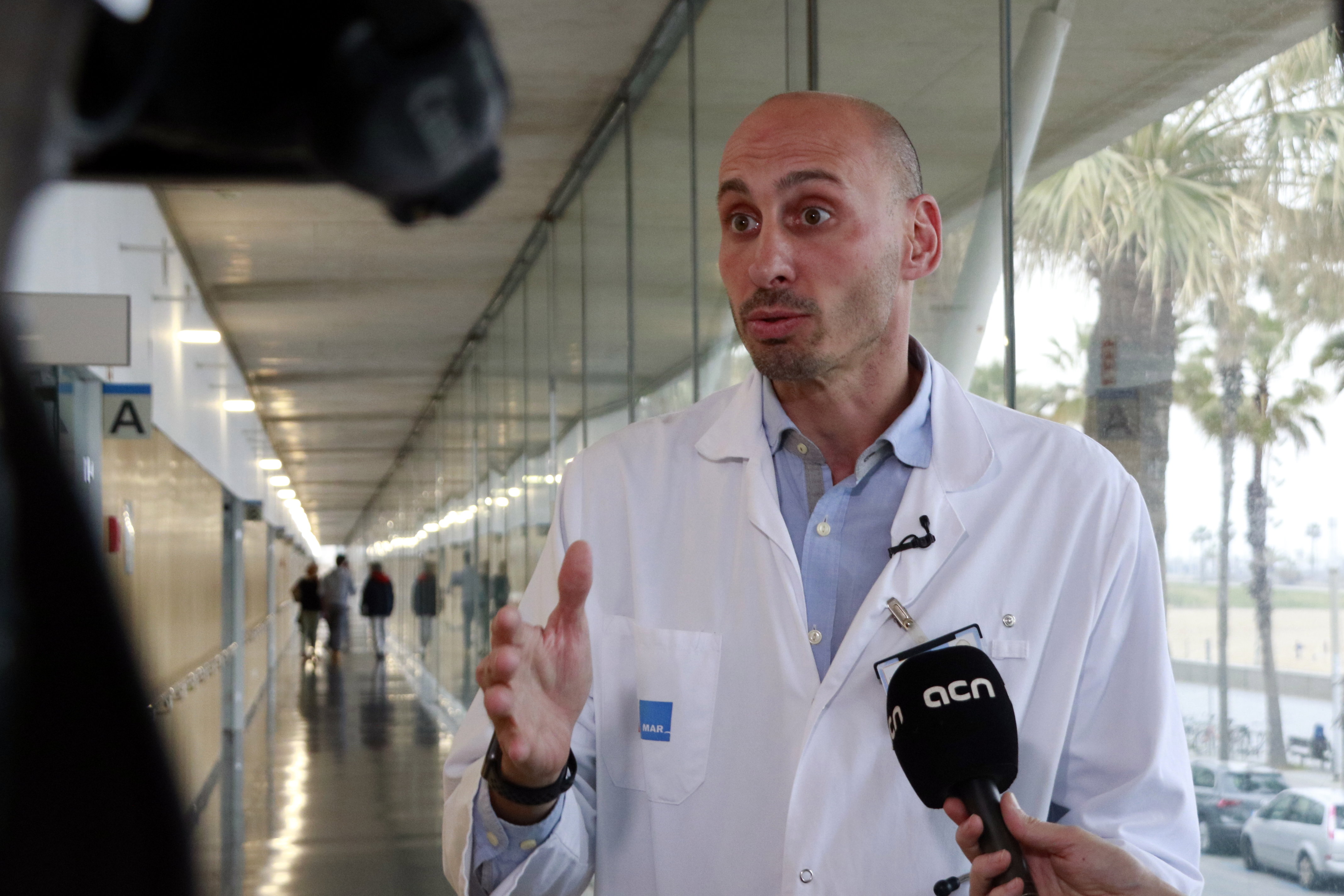 Healthcare workers have been one of the most affected by Covid-19 long before the pandemic was declared on March 11, 2020, that is, exactly two years ago. In Catalonia, medical professionals had to work long hours to cope with the unprecedented workload, during which time hundreds of them got infected with the virus and some even died from Covid-19.
Dr Robert Güerri is the head of infectious diseases at Hospital del Mar, one of the biggest health centers in Catalonia. He is also the Covid-19 Hospitalization Coordinator at the same facility. He was on the front lines in the fight against the pandemic from the earliest days, taking care of sick patients despite the uncertainty.
"We didn't know exactly what we were fighting against. In two or three days we needed to change everything. It was completely unknown what we were fighting against, and the worst thing was we didn't know how to treat it," Dr Güerri said to Catalan News.
Listen to the interview of Dr Robert Güerri and the podcast on the second anniversary of the Covid-19 pandemic.
Tipping point: patient who got seriously worse 'in eight hours'
It was not long after when he realized the severity of the situation after admitting a 27-year-old Canadian to the hospital that was in Barcelona studying a masters when he got sick at the beginning of the pandemic.
Güerri recalls that the patient went "from breathing normally to having a viral pneumonia and respiratory failure and he needed to go to critical care." The young patient had gotten seriously worse "in a matter of eight hours," and that moment is when Dr Güerri knew Covid-19 "was going to be really a problem."
The days went on, with more and more patients building up. Quickly, Hospital del Mar went from admitting "40, 50, or 60" patients a day with Covid-19 difficulties to having to re-organize their infrastructure to take in over 100 new patients in a single day.
'We weren't even able to get them into ICUs'
"It was like a nightmare," Dr Güerri told Catalan News. "People came to the hospital in a very severe situation and some people died. We weren't even able to get them into critical care because we didn't have time. They get into the hospital, they get sick very very quick, and then they died because we weren't able to give anything to them," he added.
Months later, Robert Güerri is still "dreaming about some patients and some of the situations" he had lived. Some, even emotional moments such as treating his colleagues.
'Güerri, do not do this to me'
"I was working at that moment in critical care as a doctor on call, and we admitted a colleague of mine in the critical care unit. We needed to connect him to a mechanical respirator. And I remember one of his last words, he told me "Güerri, no me hagas esto," like "Güerri, don't do this to me"… I remember these words and I remember that moment, and I have dreamt many times about that moment. And, unfortunately, he died," Dr Güerri mournfully said.
Despite many painful moments, Dr Güerri found encouragement in the togetherness he saw, such as his team of doctors, nurses, and all those workers at the hospital. Having them as colleagues, during the complicated time made him feel "really proud."
Long Covid: symptoms 2 years after getting Covid
Meanwhile, Tony Martín, a language teacher from Martorell, near Barcelona, has had a rough couple of years. First, he had a pulmonary embolism that had him out on sick leave. Then, as Europeans were only just waking up to the threat of Covid, Martín became one of the first people in Catalonia to fall ill with the virus in March 2020. Two years later he still experiences debilitating symptoms, like headaches, not being able to move some of his toes, or paresthesia, a painful prickling sensation in his leg.
"Initially it didn't seem like it was a really bad case of Covid because it was just shivers and sneezing and coughing and mouth sores and stuff like that," he told Catalan News. "After the months went by, I noticed that I didn't recover, I didn't get well."
He's also had chronic kidney issues and two transplants since he was in his late teens. "Some of the neurological symptoms I have might be related to the immunosuppressants that I take," he explained. "But all of a sudden, three months after having Covid, why do they develop like that?"
Martín, whose symptoms improved somewhat after getting his first Moderna vaccine dose, felt vindicated when doctors finally diagnosed him with long Covid and says he is optimistic about the future. He feels supported by the Catalan long Covid group he is a part of and is hopeful his symptoms will one day subside.