UN calls for release of three jailed pro-independence leaders
Report by Working Group on Arbitrary Detention calls on Spain to compensate officials and considers detentions violation of fundamental rights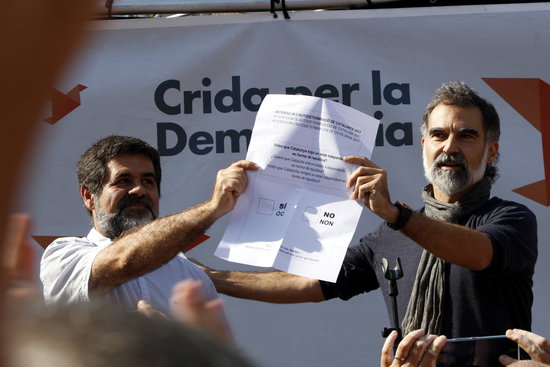 The United Nations Working Group on Arbitrary Detention has called for the immediate release of three imprisoned pro-independence leaders: activists Jordi Sànchez and Jordi Cuixart, and former Catalan vice president Oriol Junqueras.
A report by the group, first published by the 'Nació Digital' and 'El País' newspapers, and confirmed by the Catalan News Agency, asks for compensation for all three and considers their detention and imprisonment to be a violation of fundamental rights, especially freedom of speech.
Sànchez, Cuixart and Junqueras were the first jailed leaders to take their cases to the UN Working Group on Arbitrary Detention in February 2018, with other incarcerated officials later joining the request – thus the United Nations institution, dependent on the UN Human Rights Council, has so far only ruled on Sànchez, Cuixart and Junqueras.
Former ministers Joaquim Forn, Josep Rull, Raül Romeva and Dolors Bassa, also beind bars, took their detentions to the same UN group in July 2018.
Lawyer Ben Emmerson
Their defense in this international cause is led by lawyer Ben Emmerson, specializing in human rights and international criminal law. Throughout his career, he has appeared before the European Court of Human Rights in Strasbourg, the International Criminal Court in the Hague and the UN's International Criminal Tribunal for the former Yugoslavia.
Pro-independence politicians react to UN ruling
The Catalan vice president, Pere Aragonès, believes that the ruling forces Spain to choose "to stand either on the side of those who comply with the United Nations, or those who don't.''
Carles Puigdemont, the former president who is exiled in Belgium, tweeted that "to have political prisoners detained in abusive conditions, and to have the UN to tell you that, is a complete rejection of the narrative that Spain is a model democracy."
"Violating the Universal Declaration of Human Rights is a shame for a country in the European Union," added Puigdemont.