Ukrainian, Belarusian and Russian Nobel Peace Prize winners defend democracy at Barcelona event
Nobel laureates take part in Catalan parliament's first peace conference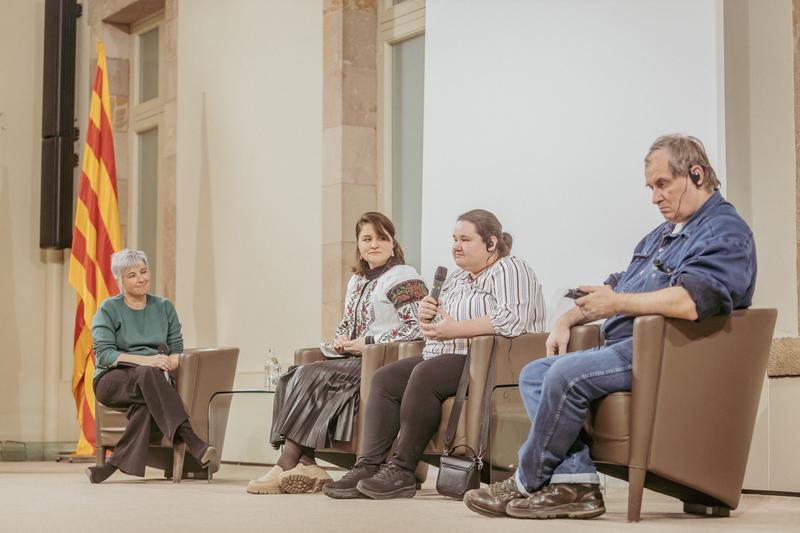 The Catalan parliament's first peace conference took place on Monday, with speakers including representatives of the 2022 Nobel Peace Prize winners from Ukraine, Belarus, and Russia.
Oleksandra Romantsova, executive director of the Ukrainian human rights organization Center for Civil Liberties, Natallia Satsunkevich of the Viasna (Spring) Human Rights Centre in Belarus, and Alexander Cherkasov, head of the Memorial Human Rights Centre in Russia took the opportunity in Barcelona to defend democracy, call for peace and emphasize the key role that civil society plays in war and in resisting authoritarian regimes.
The event was opened by acting parliament speaker Alba Vergés, who considered the gathering of entities and figures present "historic," and repeated Catalonia's "decades" long commitment to peace.
Romantsova – who said she was "really glad" to be in Barcelona and thanked people for their support for Ukraine and for Ukrainian refugees – stated: "Civil society is the main force of resistance."
"Civil society is people who feel that fighting, not only for us, for a democratic system, is not only right, it's a responsibility."
The power of justice
Part of the work undertaken by the Center for Civil Liberties is documenting war crimes, with a view to one day bringing Putin to trial.
"Our organization has been working and collecting evidence of war crimes and testimony in Crimea and Donbas since 2014."
"We are doing this because we believe in the power of justice," Romantsova said.
Satsunkevich, who lives in exile in Vilnius, Lithuania, spoke of the connections between Ukraine and Belarus, and the sad fact that the Ukrainian's expertise in documenting torture and civil rights breaches since 2014 had proved useful following the crackdowns in Belarus.
She thanked the crowd for their support of political prisoners in her home country.
Alexander Cherkasov lamented that humanity has not "learned the lessons we had to learn after the Second World War." According to him, the Russians "closed their eyes thinking that Putin's behavior was not serious" while Europe "bought the oil from Russia and did not look at where it came from."
Now, he complains, "Russia has declared war on NGOs" like his own, and that's why he had to flee his country six months ago.
2022 Nobel Peace Prize
The 2022 Nobel Peace Prize was jointly awarded to human rights advocate Ales Bialiatski from Belarus, the Russian human rights organization Memorial, and the Ukrainian human rights organization Center for Civil Liberties.
The Nobel Committee said: "The Peace Prize laureates represent civil society in their home countries. They have for many years promoted the right to criticize power and protect the fundamental rights of citizens. They have made an outstanding effort to document war crimes, human right abuses and the abuse of power. Together they demonstrate the significance of civil society for peace and democracy."