Two pro-independence mayors arrested over 'public disorder' offenses
Lawyer calls detentions "unjustified and disproportionate," and claims he was not let in police station for speaking in Catalan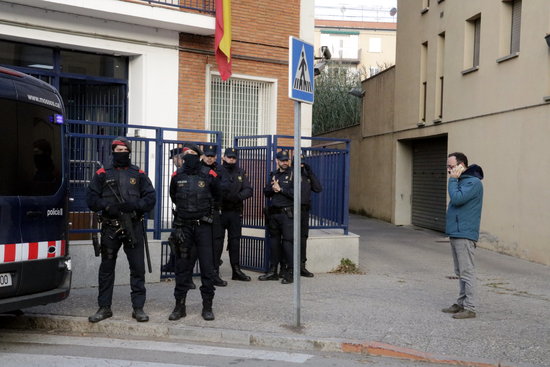 Two mayors from the pro-independence far-left CUP party were arrested on Wednesday morning in the Girona region, in northern Catalonia. The two politicians were later released.
Nine more activists from the CDR protest group were temporarily detained by the Spanish police, all of them for "public disorder" offenses.
Later in the day, four more people were detained for allegedly blocking the high-speed rail line on the anniversary of the October 1 independence referendum, bringing the total number of arrests on Wednesday to 15.
Sources in the CDR protest group say those arrested were a photojournalist and three activists from the La Forja youth organization and the SEPC student union.
All of the 11 people arrested earlier in the day, including the two mayors, were later released to wait for the court to summon them to answer public disorder charges.
Ignasi Sabater, mayor of Verges, was one of the local officials arrested, with the other being the head of the Celrà council, Dani Cornellà.