Torra urges Catalans, Basques and Galicians to 'join forces' for European election
Catalan president defends "democratic front" to protect "all freedoms," including right to self-determination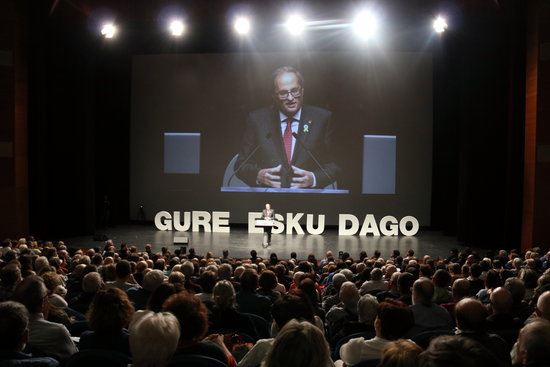 Catalan president Quim Torra urged Catalans, Basques and Galicians to "join forces" to defend their interests in the upcoming European election.
In a speech from the Basque country, Torra proposed creating a "democratic front" to protect "all freedoms," including the right to self-determination.
According to the leader of Catalonia, the Spanish State is going "backwards" in democratic terms, and this "affects everyone."
"Can we, Basques, Catalans, and Galicians move forward at the same time, to make our voices heard in the European Parliament?" he asked.
"Together we are stronger, together we will be more free," Torra added.
The Catalan president's proposal comes after his predecessor, Carles Puigdemont, defended a pro-independence unitary ticket in the upcoming European election. Puigdemont said that he would be willing to be second in a list led by his former vicepresident, jailed leader Oriol Junqueras.
A historic figure of the pro-independence movement in the Basque country Arnaldo Otegi also supported the idea of a joint ticket between the three peoples in a recent interview.
Otegi spent six years in jail accused of links to ETA, but the European Court of Human Rights recently ruled he had had an unfair trial.
However, the second biggest pro-independence party in Catalonia, ERC, is not in favor of joint ventures with Torra and Puigdemont's group.
Traditionally, pro-independence and regional parties in Spain have joined forces in the European election, because the electoral system for this vote makes it more complicated for them to get seats.