Torra sues Global Spain head for libel and obstruction of justice
President files lawsuit against foreign agency's Irene Lozano over report he claims violates jailed leaders' presumption of innocence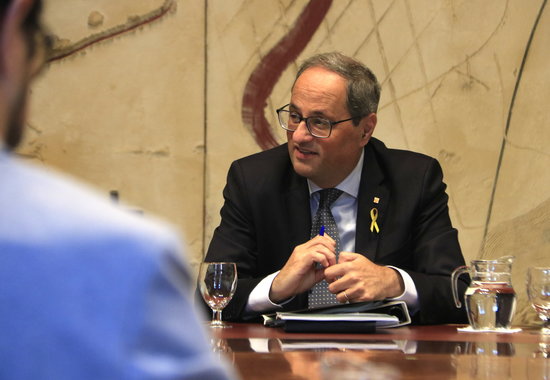 President Torra has filed a lawsuit accusing the head of the Spanish government's Global Spain agency, Irene Lozano, of violating the presumption of innocence and the right to a fair trial of the jailed Catalan leaders in a recent report.
Global Spain, a foreign ministry agency responsible for improving Spain's image abroad, recently published a document called "The truth about the Catalan independence bid," with the aim of countering the Catalan government's arguments for secession.
According to Torra, who filed the suit with the Barcelona public prosecutor on Thursday, the Secretary of State for Global Spain, along with others who worked on the report, is guilty of a series of offenses, such as libel, and the perversion and obstruction of justice.
Torra claims that the report, which was distributed to Spanish diplomats in August, "is not merely descriptive and objective, but includes numerous subjective opinions about what took place in Catalonia on October 1, 2017," the day of the independence referendum.
Moreover, the suit argues that the report "gives a description of the events that it clearly categorizes as criminal and directly attributes them to the people being prosecuted," in reference to the jailed leaders on trial for organizing the bid to split from Spain.