Spanish PM on Borràs sentence: case involves 'flagrant breach of duty and misuse of funds'
Sánchez avoids clarifying whether he would pardon politician sentenced to 4.5 years for corruption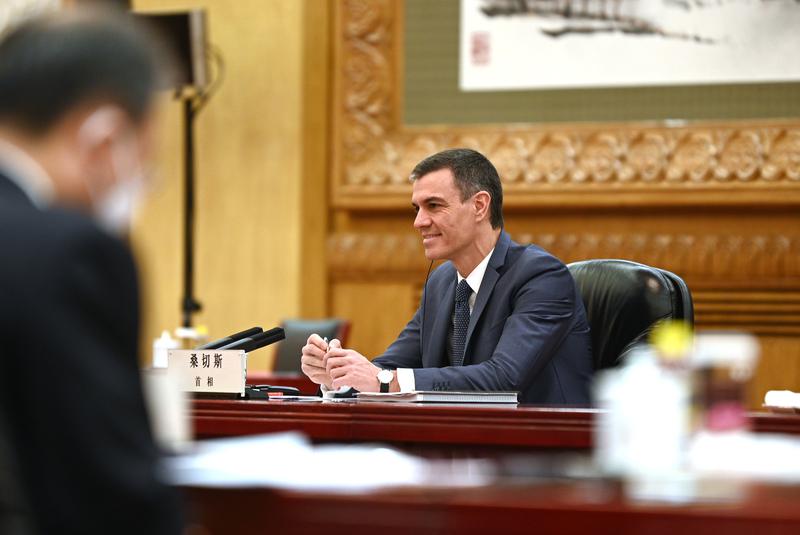 Spanish prime minister Pedro Sánchez, currently on a diplomatic trip to China, described the suspended Catalan parliament speaker Laura Borràs corruption affair as "a flagrant case of breach of duty and misuse of public funds."
Borràs was sentenced to 4-and-a-half years behind bars and a 13-year disqualification from public office by Catalonia's High Court on Thursday for splitting contracts to avoid putting them to tender while she was at the head of the Catalan Institute of Letters (ILC).
The verdict itself, however, asks the Spanish government for a partial pardon to prevent her from serving time as it considers the penalty it must impose excessive because "it does not allow for sentence reduction procedures."
Sánchez avoided clarifying whether he would pardon Borràs, as the ruling calls for, or not.
"It's not that I do not have an opinion," he said in a press conference on Friday, "but I think I should be mindful of the legal procedures established by our rule of law."
Borràs will not be going to prison immediately as her sentence will be appealed before Spain's Supreme Court.
The Madrid court must decide on it first before the Spanish cabinet can consider the question of a pardon, Sánchez stressed.
Splitting contracts to avoid tenders
Between March 2013 and February 2017, the ILC awarded 18 minor contracts "through its director" related to its website for a total value of €330,000, in which Borràs "intervened", "proposing and awarding the contract, approving the expenditure, certifying the execution of the service, issuing the corresponding invoice and finally authorizing the payment," according to the investigating judge's decree published on March 14, 2022.
Of these contracts, six were awarded to Isaías Herrero for a total of €112,500, and one to Andreu Pujol for €20,050. Six contracts were also awarded to Xarxa Integral for €101,035 and three to Freelance for €54,437, two groups Herrero was a member of.
The contracts amounted to a total of €330,000, of which the ILC paid out €309,000 in the end.
Shortly after having been appointed director of the ILC, Borràs introduced Isaías Herrero to the staff as head of the website. The two exchanged emails about invoices and contracts, concluding that the same vendor could not file invoices for different items in the same year and that they, therefore, had to "knock on doors" to bill different names to avoid exceeding the €18,000 maximum for minor contracts.
At the time, public contracts in Catalonia of over €18,000 had to be put to tender. The court has found that Borràs fraudulently split a larger payment into smaller contracts in order to be able to choose who would be awarded the work and to avoid a public tender process.