Spanish government to ban working outdoors during high-temperature warnings to prevent heatstroke
Measure will be approved by cabinet on Thursday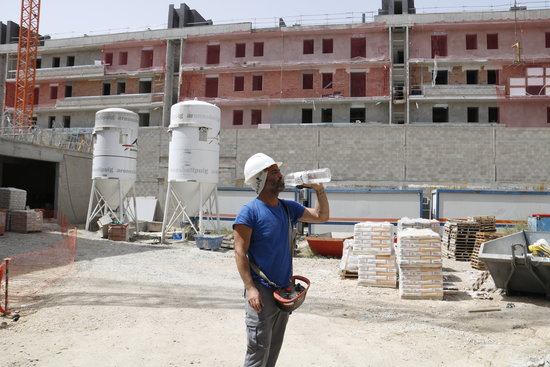 The Spanish government will approve new measures to tackle the ongoing drought, which will include a ban on working outdoors during high-temperature red and orange warnings, to avoid heatstroke and deaths, it was announced on Wednesday.
The measures will be approved during an exceptional cabinet meeting on Thursday and will apply when the Spanish meteorological agency (AEMET) issues high-temperature warnings, explained Yolanda Díaz, Spain's second vice president.
"We will modify existing labor legislation to include specific compulsory measures for companies," she added, to "adapt workplaces to climate conditions."
Climate change has reached "residents' lives," and this requires a "very strict measure," Díaz said. "We have seen on many occasions workers who have died because of heatstroke."
Hottest April on record
The measure comes after last month was found to be the hottest April on record in Spain, according to figures made public by the EU Copernicus Climate Change Service on Monday.
"April saw exceptionally warm temperatures in Spain and Portugal, which were accompanied by extremely dry conditions," said Samantha Burgess, the deputy director of the organization.
This trend was also seen in other parts of the world – last month was the fourth-warmest April globally – and yet there were also colder than average temperatures in the United Kingdom and the European southeast.