Spanish government argues 'technical difficulties' to introduce Catalan in European parliament
Spain agreed to ask for language to be used in EU chamber in summer talks with Catalan cabinet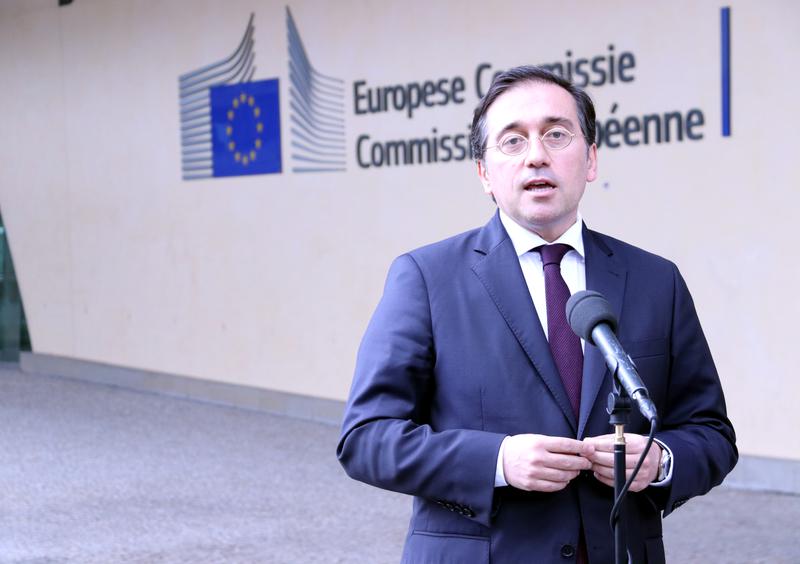 Spain's Minister of Foreign Affairs, José Luis Albares, said on Thursday that there are "difficulties" introducing Catalan in the European Parliament, after its speaker Roberta Metsola revealed in a meeting with him that there are problems on a technical and political level.
Introducing Catalan into the European Union chamber, alongside Basque and Galician, was proposed by the Spanish government in September, offering to cover the costs of the interpretations of the languages with the aim of "transparency" and improving "citizen participation" after an initial deal was made between Catalonia and Spain back in July to protect Catalan in both Spain and at the international scale.
After meeting with Metsola, Spanish minister Albares explained that the technical issues refer to a lack of space in the interpretation booths. In addition, Metsola said that political difficulties occurred in the EU Parliament's bureau responsible for the decision of moving forward with the initiative, which came as the result of a long-standing request of several Catalan parties.
Albares stated that he "insisted on the need to move forward decisively on the issue" in a press conference in Brussels, adding that Metsola has not given him any specific dates or information on that regard as it is an agreement between the parliament groups.
In the meeting with the speaker, the minister also addressed the resolution of the Spanish electoral board (JEC) on the situation of the exiled pro-independence MEPs Carles Puigdemont, Toni Comín and Clara Ponsatí, all from Junts, as well as ERC's Jordi Solé.
The European Parliament is currently unable to verify the credentials of the four as they did not go to Madrid this spring to take the constitutional oath which is required to participate by the Spanish legislation.
The electoral board stated that the seats of Puigdemont and the others "have to be temporarily vacant until the constitutional oath has been done" and that this should "suspend their rights and prerogatives."
According to Albares, the parliament speaker confirmed to have received the letter on the issue and that legal services are analyzing the situation. "The conversation on that topic did not go any further," Albares said.
For the time being, the four politicians continue with their MEP status. They were granted their seats after an EU court decision in late 2019 enabling it despite them failing to take the constitutional oath in person in Madrid.