Spain's president proposes meeting Catalan leader in early February
Pedro Sánchez and Quim Torra sitting at table will mean kick-off of official talks over independence issue between governments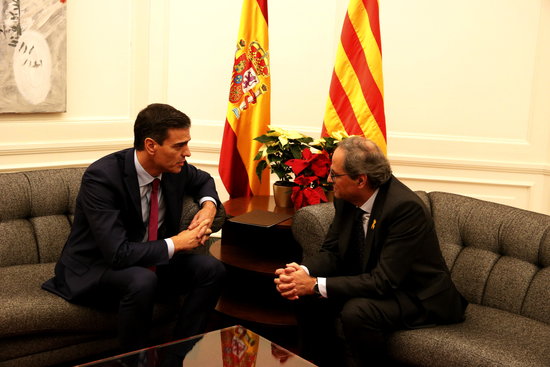 Spain's president, Pedro Sánchez, has proposed meeting Catalonia's leader, Quim Torra, in early February.
The Socialist politician gathered the majority in congress to stay in power in early January with pro-independence Esquerra's support in exchange for the opening of negotiations over the Catalan crisis.
The deal between the Socialists and Esquerra included kicking off the talks within 15 days of the government taking office, something that will not be possible if negotiations begin in February.
In his first interview since he was reelected, on Spain's public TV, Sánchez said that he has "absolute will to engage in dialogue." For him, the independence issue is a "political" conflict – in his speech presenting his bid for Spain's presidency in congress, he not only said it is "political," but also pledged to "leave judicialization behind" in this matter.
Pedro Sánchez and Quim Torra have not held talks since December 20, 2018.