Spain's health minister to be Socialist frontrunner in upcoming Catalan election
Salvador Illa will be the party's presidential candidate after Miquel Iceta steps aside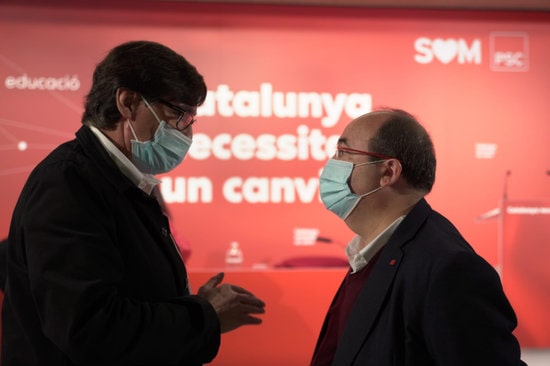 Salvador Illa, who has been Spain's health minister throughout the Covid-19 public health crisis, will be the Socialist party's presidential candidate in Catalonia's February 14 early election.
The move, which was announced by La Vanguardia and confirmed by the Catalan News Agency on Wednesday a day after Illa said he would not be the candidate in Catalonia, comes after Miquel Iceta's decision to step aside as the party frontrunner.
"I am ready to preside over Catalonia," Illa proclaimed on Wednesday evening. "I want to be the Catalan president because I have hope and faith in Catalonia," he said.
JxCat: Not a surprise
Laura Borràs, pro-independence JxCat's presidential candidate in the upcoming election, reacted to the news by criticizing Illa's decision to be the Socialist's frontrunner in Catalonia in the midst of the Covid-19 crisis.
Attributing it to the party's unfavorable polls in Catalonia, Borràs said the decision was not surprising: "Yesterday they said one thing, today they say another—this is the norm for the Socialists and Pedro Sánchez."
ERC: Socialists are trying to win Cs' votes
The imprisoned head of left-wing pro-independence Esquerra Republicana, Oriol Junqueras, views Illa's candidacy as "an attempt to win Ciudadanos' votes."
According to Junqueras, electors "will have to choose between Esquerra and the Catalan Socialists." "We beat them in the past two elections and we will do it again," he said.
En Comú Podem: "Reckless"
Meanwhile, Jaume Asens of En Comú Podem, the Catalan branch of the party in coalition with the Socialists in the Spanish government, said Illa leaving the ministry during the pandemic was "reckless."
Asens expressed surprise at what he described as the Socialists "prioritizing party interests over managing the health crisis."