Solving Catalonia crisis 'needs time,' says Spanish government
Spanish interior minister Marlaska has urged Catalan president to ''expressively'' condemn violent protests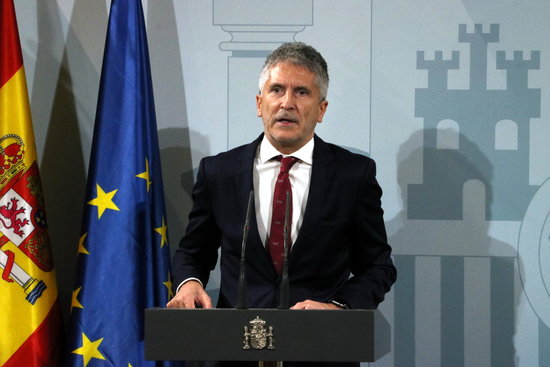 Interior minister of the Spanish government, Fernando Grande-Marlaksa, admitted on Tuesday that a solution to the current crisis in Catalonia ''needs time'' and has expressed his hopes that the situation will ''remain calm'' over the course of the coming days.
Catalonia is in a state of societal and political turmoil after the verdict of the independence trial sentenced nine leaders to 9-13 years behind bars for their role in the October 1 referendum in 2017. The protests that followed over the course of the week descended into violence and unrest, leading to clashes with police, barricades set on fire and hundreds of injuries.
Interior minister Marlaska has assured that ''all ideas can be expressed calmly and in a way that guarantees that other citizens can still live their own life.''
He has stressed that his executive is ''taking the necessary preventative measures to guarantee public order and a space of coexistence for society as a whole.''
Meanwhile, Marlaska has also justified a picture of one of the guards of Spain's acting president Pedro Sánchez captured holding an automatic weapon in the procession of cars during the visit to the hospitalized policemen in Barcelona. Marlaska has played this down, labelling it as ''usual precautions.''
He has reiterated the words of Sánchez, who encouraged police by saying ''we are more stubborn,'' when warning that the independence movement would persist.
''What he is saying is that we need to rebuild harmony in Catalonia, which will take time,'' said Marlaska.
Marlaska urges Torra to actively condemn violence
Catalan president Quim Torra's calls for peaceful protests and condemnations of violence over the course of the last week were not enough for the Spanish interior minister, who has implored the president to condemn the protests ''without nuances'' and in ''an expressive way.''
According to Marlaska, Torra also has to ''give support to the security forces of the state since they are above all the people who guarantee public safety for citizens.''