Socialists target retaking mayorships in Barcelona, Girona, Lleida and Tarragona
Party tops polls in capital where they stand for tram, tech-based economic growth, and against squatters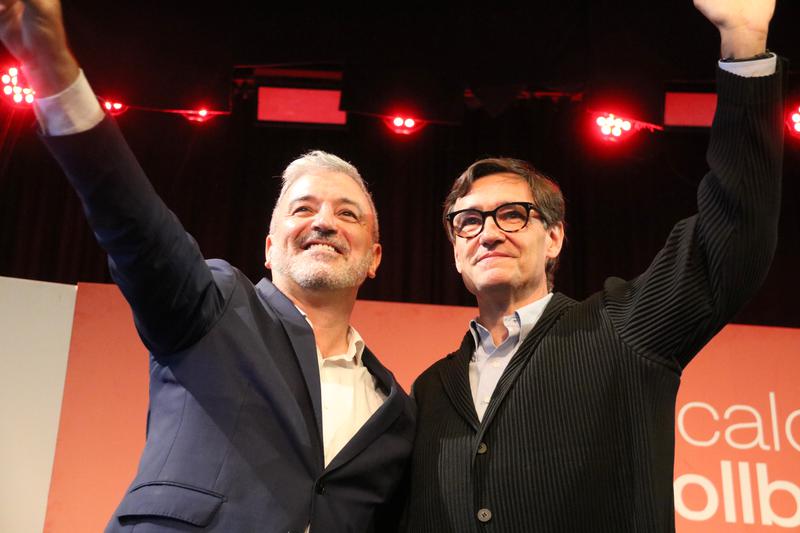 The Socialist party is aiming high in the upcoming local election, dreaming of a major comeback in Barcelona where they held the mayorship for over three consecutive decades before losing it in 2011.
Jaume Collboni hopes to add his name to the list of Socialists who have led the city council, including Pasqual Maragall, the politician who made the 1992 Barcelona Olympics possible.
Collboni has spent most of the two last terms, since 2015, as deputy mayor of the Catalan capital, under the left-wing Barcelona en Comú mayor Ada Colau. Yet, he seems to have had enough of being the second-in-command.
Polls positive for Socialists to come first after 16 years
"We intend to win. I am sure I will be the next mayor of Barcelona if I get the trust of most voters, we are the real progressive alternative that can win the election," he said in a recent press conference organized by the Catalan News Agency (ACN). "But if you do not win the election, you lose it. And if you lose it, you go to the opposition."
So far polls are not looking bad for him, given that some of them are estimating that he will come first, while some others see him second – it has been 16 years since the last time the Socialists came out of a municipal election with more votes than any other party.
Taking into account how tight the mayoral race in Barcelona is, coming first even with a narrow margin will give much advantage to take the top post – if no candidate is able to garner a majority of support from councilors, the party leader that came first automatically becomes mayor.
The Socialists stand for a green transition, including subsidizing the purchase of electric cars in Barcelona with grants of up to €3,500, and they are also in favor of building a tram line along the city center along Diagonal avenue.
A return in Girona, Lleida, and Tarragona?
Yet, the left-wing political force are also plotting a return to the council in Girona where they were also removed from power in 2011 after three decades.
Sílvia Paneque is their candidate in the northeastern city, and she is well aware that in the past few years, it has become a pro-independence stronghold.
"We are here to bring people together. We talk to everyone, whether they are pro-independence or not. People are perfectly aware of that," she said in an ACN political debate.
In Tarragona and Lleida, they tied for first place with Esquerra in 2019 but were not able to keep power in either city. Their aim for 2023 is to make their return in both regional capitals.
Also, the Socialists want to remain the strongest party in the metropolitan area – they have been ruling for decades in cities like Sant Boi de Llobregat and L'Hospitalet de Llobregat, the second-most populous city in Catalonia, and they got several absolute majorities in 2019, such as in Cornellà de Llobregat and Sant Joan Despí.
Tougher stance against squatters than other left-wing parties
Housing is one of the biggest topics in many local election campaigns, and while the Socialists stand for affordable housing, in the metropolitan area they have become entangled in some controversy when they proposed the launch of an office to help prevent squatters in Barcelona.
Other left-wing candidates such as Colau and Esquerra's Maragall said Collboni is leading a right-leaning narrative in this field.
These three candidates, along with Junts' Xavier Trias are the only politicians with real options to become mayor for the 2023-2027 term.