Sister of jailed minister: 'They're not strong 7 days a week'
Sister of the deposed and imprisoned minister of Social Affairs urges people not to "normalize that which is not normal"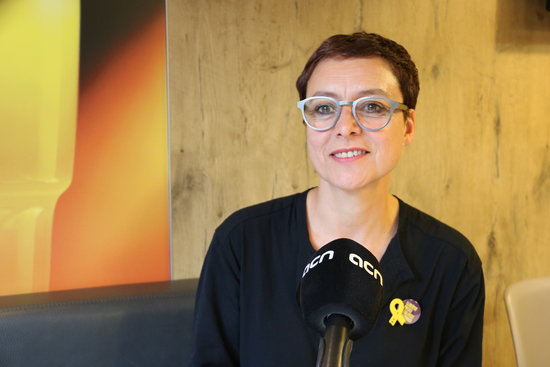 The sister of jailed and deposed minister of Social Affairs Dolors Bassa, Montse Bassa, urged people not to "normalize that which is not normal," which could lead the Catalan official being held to jail to "be forgotten."
In an interview with the Catalan News Agency (ACN), Bassa said that the family members feel "responsible" to giving a voice to the jailed leaders held in the Alcalá Meco, Estremera and Soto del Real prisons in the Madrid region.
Bassa also noted that repeating that the officials are staying "strong" actually "hurts society," because in fact, it's not completely true. "Us family members know that they're not strong 24 hours a day or 7 days a week," revealed Montse Bassa, adding that "it's impossible" that a person deprived of their freedom be "well and strong."
"They have the happiness of a 40-minute-visit behind glass," explained the sister of the incarcerated minister, "but afterwards, they're shut in for 16 hours, they have their meals in silence, they have to stand in line for everything." "I'm not asking for a narrative of victimization," Bassa insisted, "but maybe we should get a bit more indignant." This, said Bassa, "if we are to empathize with them, and to think of how hard it is."
The sibling of Dolors Bassa also campaigns for the media not to forget the women who are in prison, including her sister and the former Catalan parliament president Carme Forcadell. She recalled that Bassa, before returning to prison, went up to the journalists, and, "as nervous as she must have been, in such an extreme situation," asked for them not to forget about her, this time.
"The pain is very frustrating," recognized the sister of the deposed minister, who has by now spent over 100 days in prison. Montse Bassa explained that when her sister got out of prison, in early December last year, "it was hard for her to go back to a normal life," and now, she's back in prison "as she started to be better, although not completely."