Puigdemont arrives in Sardinia ahead of Monday's court appearance
Italian authorities to decide whether to launch extradition proceedings against former Catalan president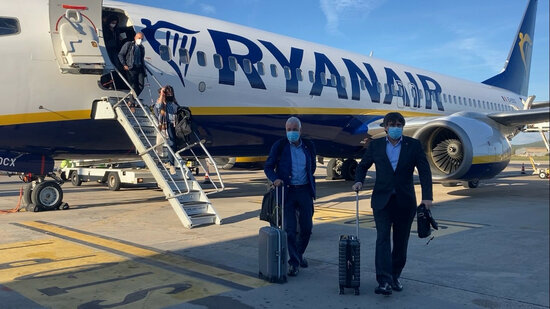 Former Catalan president Carles Puigdemont has arrived in Alghero, Sardinia, this Sunday morning, ahead of an appearance in the Sassari Court of Appeal over an extradition request from the Spanish Supreme Court.
The MEP touched down at 9am, accompanied by fellow Junts MEP Toni Comín and former senator Josep Maria Matamala. Comín, who like Puigdemont has been living in exile since the 2017 independence push, was stopped for several minutes by Italian police, but eventually waved through. Clara Ponsatí, another exiled MEP that Spain wants extradited, has also traveled to Sardinia.
According to sources close to Puigdemont, the former president plans to meet with his legal team on Sunday to prepare for Monday's court appearance. The court has to decide whether or not to activate extradition proceedings against Puigdemont, as requested by Supreme Magistrate Pablo Llarena.
The former president's defense team is confident that the Italian judiciary will close the case. The hearing is scheduled to get underway at 1130am.
Detained and released
Puigdemont was arrested in Sardina last week, only to be provisionally released a day later. On Friday he asked the General Court of the European Union to provisionally restore his political immunity as a member of the EU parliament.
His arrest could damage the ongoing talks between the Catalan and Spanish governments.
Several countries would not extradite Puigdemont
Germany, Austria, Belgium, Lithuania and Switzerland have all, at various points over the last four years, advised Spanish authorities that they would not extradite Puigdemont.
Through the Sirene police cooperation system, authorities of these countries have informed the Spanish judiciary that they would not hand the former president over.
Swiss authorities said: "The facts described do not constitute - at first sight - an extraditable crime, under Swiss law" but "appear to be a political crime or a crime related to a political crime."
In February 2020, Germany advised Spain that "according to the German Ministry of Justice the wanted person enjoys diplomatic immunity as a member of the European Parliament".
This is according to documents relating to the Supreme Court case against Puigdemont, revealed by the online newspaper Vilaweb on Friday and seen by the Catalan News Agency (ACN).